What makes a place memorable is its people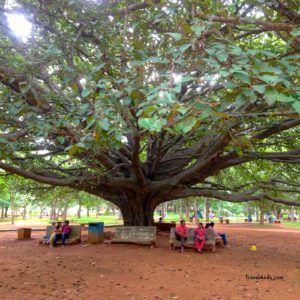 Today (August 15, 2017) is India's 70th Independence Day — a national holiday — and I am now in Bangalore, the IT city in South India's Karnataka state.
I had been meaning to visit this city for a long time. Bangalore, per se, doesn't have destinations which tourists come from far and wide to visit. What it has is a large number of beautiful places around it and this is what attracts visitors.
My agenda, however, has been a little different. I am in the city just to meet up with people.
I have several friends in Bangalore, many of whom have been asking me to visit for a long time and for some reason or another, it hadn't just worked out till now. Earlier this month, I realised I could squeeze out a five-day leave, booked my tickets (with credit card points of course!) and here I was.
I've explored the city's public transport — local buses and the new metro —, caught up with people I hadn't met for years, made several new friends, cooked for the friends I am staying with, strolled in the beautiful Cubbon Park and got some writing done as well.
From a touristy perspective, you may say I hadn't done much. But after I have left tomorrow, I believe I will remember this trip as a good one — relaxed, slow and happy — one that was worth the wait of several years.
I've been growing used to such trips lately and my travels are often turning out more like visiting people. And I'm not complaining.
I was in the US two months ago and staying with friends. [ALSO READ: How to make friends on the road] I visited two places — Charlottesville in Virginia and Ithaca in New York — both of which I wouldn't have gone to unless I knew people there. In the end, I was happy I'd decided to go because both were extremely beautiful and non-touristy and there were of course the awesome people I was staying with.
My time in Shenzhen, China, had been short and I was AirBnB-ing [ALSO READ: How to sleep cheap while travelling]. It's a touristy city and I explored it on my own initially. At the end of the stay, my host took me out to the non-touristy part of town where we went to local eateries not frequented by tourists. The food was awesome and the prices, cheap. He was my host and I was paying to stay at his place. He didn't have to do it. But he did and that made my China trip a little more memorable for me.
On my last night at Dawson City in Canada, I was drinking with this person I'd met at a pub called The Pitt. This was apparently the place the locals visited. A band was playing and some people spontaneously started dancing. We were loving the atmosphere and two men, who sat on the table to our left, smiled at us. When one of them was leaving a few minutes later through the passage behind our table, he placed his hands on our shoulders and said, "Welcome to Dawson City." I have rarely felt more welcome as a traveller anywhere in the world.
On the same trip to Canada, when my father and I asked directions to a hike at Squamish from a woman cycling by, she called up her husband (ignoring our protests) and had him pick us up and drop us off at the hike start point.
Berlin is among my favourite cities in the world and I have been there twice. I Couchsurfed for a couple of nights on my last time there and my host was celebrating his birthday during my stay [ALSO READ: Why you should be on Couchsurfing]. We prepped together for the party, which turned out really well. On the same trip, I caught up with some old friends. My Berlin memories — apart from the usual sites such as Brandenburg Gate, Memorial for the Murdered Jews, Checkpoint Charlie Museum and Tempelhof Airport — mostly comprises of the people I spent time with; how they added to my trip and made it that much better.
Yes, it's about the place. But the people you meet… those experiences are the soul of any trip. Good people make a shitty destination worth visiting.  And if the place is awesome, that just makes your holiday perfect.
Koh Phangan beyond Full Moon Party: Bottle beach
|
Let no one tell you how to travel