Why you should be on Couchsurfing

Are you on Couchsurfing? No? Then, you are definitely missing out as a traveller. 
Let me give you a brief introduction on what's it all about. A stays in Mumbai and B stays in London. When A visits London, she sleeps on B's couch. If B has some free time, she hangs out with A and possibly shows her a glimpse of the life of the local people. A does the same when B visits Mumbai. No money is involved.
I have earlier written on how to spend less on accommodation while travelling, but Couchsurfing is much more than just a surface to sleep on.
The website claims its network is present in 100,000 cities and has more than seven million members.
I can't vouch for those figures but what I can assure you is that this enterprise has certainly changed the way people travel. 
This "hospitality exchange network" has not only saved me lakhs of rupees but also helped make my travel experiences so much richer.
In this post, I will talk about how Couchsurfing works and how it can help you.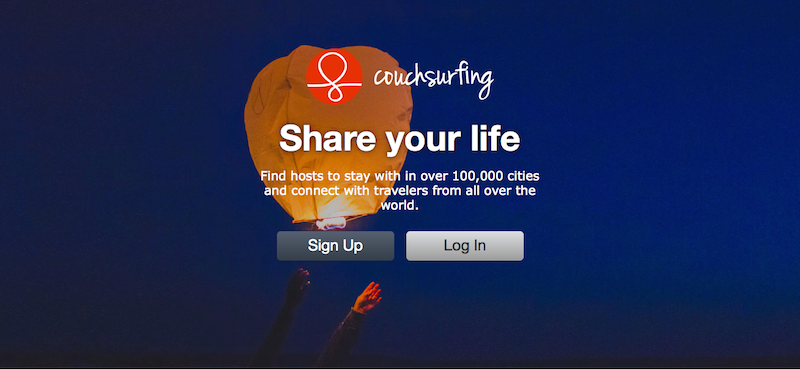 First, you need to log into www.couchsurfing.org and create a profile, much like those on social networking sites. You fill in the details and then you can choose to let travellers know whether you are willing to host people or not.
It's perfectly ok if you are unable to host at a certain point, you can always meet up with travellers and show them around your city if you have the time.
Also, if you are travelling somewhere, you can ask locals there if they would like to host you, or hang out.
The thing about Couchsurfing is that it takes other people to make your profile strong. People who you have interacted with (travelled/hosted/surfed) can leave references on your profile. Consequently, people who you have requested to host you, could check out those references and decide whether to go ahead and host you or not. On the other hand, you, too, could read up your potential host or guests' references and make your decisions based on that.
With no references when you start out, you might find that getting people to host you is a bit of a problem. So, a good way to start is to have a complete profile with all kinds of relevant information and pictures and being open to hosting travellers. If you find that even then, people are not approaching you for surfing, go to the events and meet-ups that are organised regularly by local Couchsurfing communities. You will meet like-minded people there who will be happy to write you some references based on your interactions.
Couchsurfing is awesome and it is a wonderful way of connecting with people all over the world. Once someone has hosted/surfed with you and has had a good experience, they will usually be happy to return the favour when you visit their hometown. Also, you could make more friends through them and increase your network of contacts across the globe.
I have been a member of Couchsurfing since 2008 and through this site, I have met so many beautiful people, many of whom I continue to be in touch with.
Travel is all about meeting new people and understand cultures that are different from your own. Couchsurfing paves the road for your journey.
Don't stress over elusive airfare deals
|
Murshidabad: Your date with history