'The Sweater Guy' knits sweaters of holiday spots, takes selfies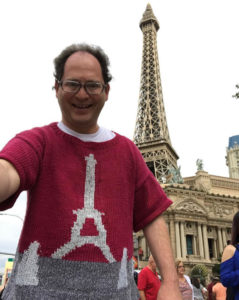 New York City (TAN): Travel can do you wonders, or at least bring out your creative best. And that's what it did to Sam Barsky.
At age 43, Sam knits sweaters of famous global destinations, followed by travelling to the actual sites and clicking photos of himself wearing his creations.
The resident of Baltimore in the US east coast stitched his first sweater with an actual trip in mind about twenty years ago, that of the Stonehenge in the United Kingdom, and has knit 132 sweaters since.
Although the first sweater 'of a specific landmark was the Tower Bridge in London'. "I was inspired by a picture I saw in a magazine. I had never been there before and did not make it for a specific trip. But, once I started knitting more landmarks, like the Golden Gate Bridge and Venice, I knew I wanted to go there while wearing them," Forbes quoted him as saying.
He revealed he has visited most of the places he has knit – including the Hollywood sign, Niagara Falls, and the Chicago skyline, among several others. Barsky said he has had to be creative while knitting in certain cases as there are locations he has not been to yet. "I haven't been to Egypt or France so my pyramid and Eiffel Tower photos were both taken in Las Vegas at the Luxor and Paris," he added.
After dropping out of nursing school in 1999, Barsky stumbled upon the owners of a local yarn shop, who promised him free training in knitting if he bought his yarn from the store. Barsky, who had always wanted to learn the art, did not let the opportunity pass. And thus began his journey.
Designed by him, each of the colourful sweaters take about a month to finish, and reflect his love for travelling.
"I started designing pictures of anything I wanted, mainly nature and landmarks, about a year and a half after I learned to knit. I was often inspired by places I saw, and the sweaters came afterwards. But now I try to make them before I reach a location so I can take a photo," said Barsky.
Barsky dreams of knitting at least one sweater for each of the 50 US states, with sites including the Grand Canyon, Liberty Bell, and Mount Rushmore in the backdrop. He also intends to recreate global landmarks such as Machu Picchu, Sydney Opera House, and the Leaning Tower of Pisa.
Apart from knitting, Barsky also sells prints of his sweaters, teaches at yarn shops, and makes guest appearances as 'The Sweater Guy'. While he has a huge fan following on social media, Barsky's admirers often ask for photos with him when he is wearing one of his sweaters.
Barsky said he has worked hard for several years for recognition. "I was just surprised by the way it happened. I had always thought I would hook up with a professional marketer to publicize my works. I never expected fame would come with this sudden media frenzy," he said.
On being asked if he will ever sell his creations, he said, "At the moment, no, because it's just not practical. I wish I could but I would become a human sweater mill. I am hoping to have the sweaters mass-produced someday, and to work with others with the technical skills to write patterns for my work."
According to Barsky, he plans his knitting meticulously these days, keeping in mind his travel goals, because to him, "the ultimate souvenir is the picture of me wearing my sweater in its matching location."
Ticket policy in Machu Picchu becomes stricter than before
|
Thailand: Visa fee waiver extended till April 30