Tag: trip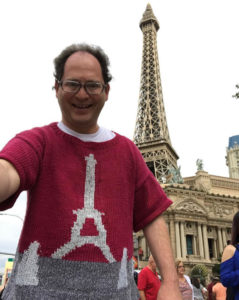 New York City (TAN): Travel can do you wonders, or at least bring out your creative best. And that's what it did to Sam Barsky.
At age 43, Sam knits sweaters of famous global destinations, followed by travelling to the actual sites and clicking photos of himself wearing his creations.
The resident of Baltimore in the US east coast stitched his first sweater with an actual trip in mind about twenty years ago, that of the Stonehenge in the United Kingdom, and has knit 132 sweaters since.
Although the first sweater 'of a specific landmark was the Tower Bridge in London'. "I was inspired by a picture I saw in a magazine. I had never been there before and did not make it for a specific trip. But, once I started knitting more landmarks, like the Golden Gate Bridge and Venice, I knew I wanted to go there while wearing them," Forbes quoted him as saying.
Continue reading 'The Sweater Guy' knits sweaters of holiday spots, takes selfies →