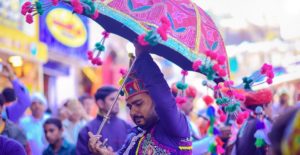 December 12 (TravelAndy): A nip in the air, and the land of the maharajas beckons one and all to join in its rich festivities — Ranakpur Festival, Winter Festival at Mount Abu, Camel Festival, Kite Festival, and Jaipur Literature Fest, all to be held in the chilly months of December 2018, and January 2019.
Ranakpur, located in the district of Pali, is all set to host the annual Ranakpur Festival, organised by the Department of Tourism, Rajasthan, on December 21 and 22. One of the most loved festivals of the state, it takes visitors, both local and international, to a journey to the depths of the local art and culture through fun activities. The winter nights come alive with cultural performances at the open-air amphitheatre at the Sun Temple, while daytime sees nature hikes at the foothills of the Aravalli range, along with hot air ballooning, tours of the Ranakpur Jain temple, and yoga sessions.
Mount Abu's Winter Festival will see thousands pouring in from all corners of the world on December 29 and 30, like every year. The festival offers an intimate insight into Rajasthan's rich heritage — gorgeous handicrafts, scrumptious food, literature, eye-catching performances, even kite-flying and rowing contests, all set against the stunning background of Mount Abu. While the festival kicks off with a magnificent procession, it ends with floating of earthen lamps in the water, a tradition known as 'Deepdaan', in the evening, followed by a fantastic display of fireworks.
Continue reading Rajasthan calls for celebrating winter like royals →