Plane-to-plane taxi for BA premium fliers at Heathrow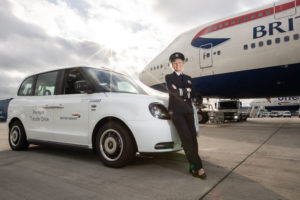 London (TAN): British Airways has launched a new electric taxi service within London's Heathrow Airport to shuttle its premium passengers to their connecting flights.
Guests will be transported directly in chauffeur-driven environment-friendly electric cabs, from one aircraft to a connecting flight .
The service, British Airways' effort to reduce carbon footprint at the airport, features London Electric Vehicle Company cabs. The air-conditioned taxis come with a panoramic roof, gadget charging stations, WiFi, and room for hand luggage, and the rides are free of charge.
Daljit Hayre, senior manager, Heathrow customer experience, British Airways, said: "It's great to see the reaction of customers when they're met by a London taxi at the side of the aircraft, waiting to take them on to their next flight. They've told us how much they appreciate this gesture, plus they love the space in the vehicle for their hand baggage. We're also really pleased that using new generation electric taxi reduces our carbon footprint."
Talking about the airline's initiative to reduce vehicle emissions, Andy Kershaw, environment manager, British airways, commented: "British Airways takes its environment responsibilities seriously and this initiative is part of our overall ambition to reduce carbon emissions and those emissions that impact air quality and our local communities."
Chris Gubbey, CEO of London Electric Vehicle Company said they were happy that British Airways selected their electric vehicles for the new service. "We designed the TX eCity with the aim of delighting customers with a more premium experience, and thanks to British Airways even those with the shortest of stays in London can now travel in comfort and style in the world's most advanced electric taxi," he added.
Thailand: Visa fee waiver extended till April 30
|
Seabourn cruise line to serve premium caviar to guests