Tag: airport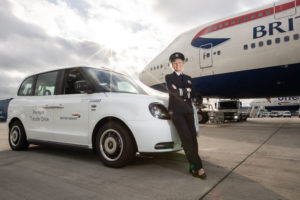 London (TAN): British Airways has launched a new electric taxi service within London's Heathrow Airport to shuttle its premium passengers to their connecting flights.
Guests will be transported directly in chauffeur-driven environment-friendly electric cabs, from one aircraft to a connecting flight .
The service, British Airways' effort to reduce carbon footprint at the airport, features London Electric Vehicle Company cabs. The air-conditioned taxis come with a panoramic roof, gadget charging stations, WiFi, and room for hand luggage, and the rides are free of charge.
Continue reading Plane-to-plane taxi for BA premium fliers at Heathrow →