Vietjet offers tickets from USD0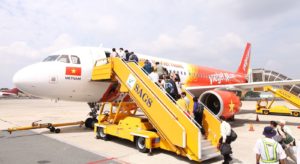 August 9 (TravelAndy): Vietnam-based Vietjet has launched a five-day promotion offering 200,000 super-promotional tickets priced from USD0, excluding fees and taxes.
This campaign is on and will continue till August 13.
The promotion is applicable on all of Vietjet's international routes from Ho Chi Minh City, Hanoi, Da Nang and Hai Phong (Vietnam) to Seoul, Busan (South Korea); Hong Kong; Kaohsiung, Taipei, Tainan, Taichung (Taiwan); Singapore; Bangkok (Thailand); Kuala Lumpur (Malaysia); Yangon (Myanmar); Siem Reap (Cambodia) for travels within September 1, 2017 to May 31, 2018.
The promotional tickets are available for booking within the golden hours of 13.00 to 15.00(Malaysian time) at www.vietjetair.com (also compatible with smartphones at https://m.vietjetair.com) or at www.facebook.com/vietjetvietnam (just click the "Booking" tab).
Further adding on to the promotion, Vietjet is also increasing the flight frequency of some of its international routes. Accordingly, the Ho Chi Minh City – Seoul route will have 14 return flights a week starting 29 October 2017, an increase of seven return flights a week. The Da Nang – Seoul route will be also increased from 7 return flights to 14 return flights per week beginning 6 November 2017.
Established in 2007, Vietjet is now leading the domestic aviation market in Vietnam and actively expanding its international flight network. Currently, the airline has a fleet of 48 aircraft, including A320s and A321s, and operates over 350 flights daily. It currently operates 67 routes in Vietnam and across the region to international destinations such as Hong Kong, Thailand, Singapore, South Korea, Taiwan, Malaysia, Cambodia, China and Myanmar.
Vistara offers tickets starting from INR799
|
Saudi airline dress code for passengers