Spend at night at the Louvre, thanks to Airbnb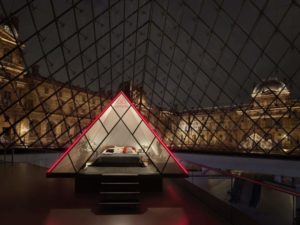 San Francisco (TAN): Staying in a treehouse or a castle during a getaway might be fun, but nothing can beat the excitement of spending a night at the Louvre.
Yes, that's right. Come April 30, you could check in to the world-famous Parisian museum for a night.
Global home-sharing platform Airbnb, in partnership with Louvre, has announced the museum will host the winner of the contest 'Why would you be the Mona Lisa's perfect guest?', along with a friend for one night.
Once inside, the duo will be taken on a customised tour by an art historian, formerly taken by President Barack Obama, Beyoncé and Jay-Z.
They will be able to cosy up to the Mona Lisa while relaxing on a Parisian lounge sofa, listen to their favourite music on vinyl records, join a feast hosted by the Greek goddess of love and beauty Venus of Milo in a pop-up dining room, and be part of an acoustic concert in Napoleon III's lavish Apartments.
Afterwards, they will sleep under Louvre's iconic glass Pyramid in a mini-pyramid specially created to celebrate the building's 30th anniversary. The space will be converted into a bedroom with a bed and other furniture for a comfortable slumber.
Deputy Managing Director of the Musée du Louvre, Anne-Laure Béatrix said: "We are happy to offer this unique and special experience for two people to stay in the museum overnight, in a bespoke pyramid shaped bedroom. We know that many people would love the opportunity to wander alone at night through the Louvre and we want this to be a magical and unforgettable experience. With Airbnb's partnership, we hope to encourage more people to discover how truly accessible and inspiring the wonders of art can be."
To win an exclusive rendezvous with some of the world's priceless masterpieces, take part in the contest by April 12, 2019. The winner and their guest will be hosted at the Louvre on April 30, 2019.
"Paris is one of the most attractive cities in the world and the Louvre is one of the most loved and celebrated institutions in Paris. We are thrilled to partner with them and to offer exciting and unique experiences that will celebrate our community and welcome Parisians and international travellers to rediscover the museum in a new and authentic way," said Emmanuel Marill, General Manager at Airbnb France.
Airbnb's association with the Louvre does not end there; they will join forces to offer various other experiences at the museum from May until the end of the year, details on which have not been revealed yet.
MCAS to blame for Lion Air, Ethiopian Airlines crashes, admits Boeing
|
India: Dal Lake in Kashmir gets a revamp to attract more tourists