India: Dal Lake in Kashmir gets a revamp to attract more tourists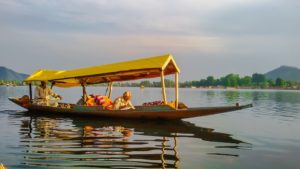 Srinagar, India (TAN): The tourism authorities of north India's Jammu and Kashmir state have decided to restore the beauty of Char Chinari Island in the famous Dal Lake here to attract more tourists.
The authorities are planting two chinar (also known as Oriental plane) trees on the island, once a favourite spot for the shooting of Bollywood films. Chinar trees are synonymous with Kashmir tourism.
The small island located in the Dal Lake has always attracted tourists, along with riding "shikaras", narrow boats indigenous to this beautiful mountainous state. Two of the chinar trees on the island had been damaged over time, especially after the 2014 September floods, much to the dismay of photographers, for whom Kashmir, Dal Lake and Char Chinari Island have always spelt "paradise".
Two help solve the problem, the department of tourism with support from the floriculture department of Kashmir, have planted two new chinar trees on the island.
Hailing the initiative by the authorities, a local resident told the ANI news agency: "This is a very good move by the authorities. Char Chinari has been an important tourist attraction for years."
"I have come here five or six times and I always feel a sense of relaxation when I visit this place. Kashmiri people always welcome tourists with warmth and love," a tourist told the news agency.
Though frequently disturbed by militancy, Kashmir sees a large number of tourists every year.
Spend at night at the Louvre, thanks to Airbnb
|
Indonesia & Malaysia emerge top Muslim-friendly travel destinations