Furore over tiger poke video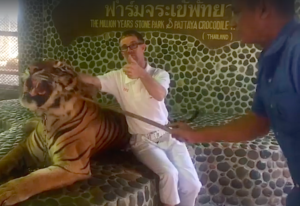 December 23 (TravelAndy): An attendant of a tiger at a zoo near Thailand's popular tourist destination Pattaya has been transferred after he was seen poking a chained tiger to make it road for visitors.
A video that has gone viral on social media shows people posing with a chained tiger to take photographs. Armed with a stick, this attendant is seen poking the tiger in the head to make it road for all the visitors.
The video earned a lot of criticism and has brought under the scanner the condition of animals at Thai zoos.
Animal rights activists have for years been protesting against the use of animals for human entertainment.
"Today witnessed the ugliness of tourism and wildlife in Pattaya; this tiger gets poked all day, hundreds of times a day so it will roar for the picture with tourists," said Edwin Wiek, the founder of Wildlife Friends Foundation of Thailand, who filmed the video and put it on Facebook.
"Time for a change of laws! Sharing this in advance of Thai National wildlife day on December 26th," he added.
A zoo spokesperson reportedly confirmed a tiger attendant had been transferred to another job for the incident.
New fishing museum in Normandy
|
Fears abate, tourists return to Tunisia