New fishing museum in Normandy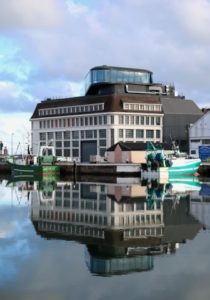 December 22 (TravelAndy): At the heart of the Alabaster Coast, the Musée des Pêcheries is the latest museum to open in Normandy. Covering 5000 square metres, it explores the long history of fishing in Fécamp and in Normandy, along with exhibits from local traditions and history. All aboard!
Located on the port, the Musée des Pêcheries is housed in the town's historic fish-drying warehouses, which have been completely refurbished and modernised.
The museum explores five themes over 5000 square metres: sealife, history, fine art, childcare and ethnography. Visitors will discover paintings, ship models, traditional fishing gear, porcelain and even ivory art pieces on five floors.
A room is dedicated to nursing and childcare. Indeed, Fécamp is the birthplace of modern pediatrics, where Doctor Léon Dufour founded the famous Goutte de Lait society, which supplied sterilised milk, food, clothing, and medical advice to the children of impoverished women back in the 19th century.
The museum comes complete with a stunning glass rooftop to enjoy 360° panoramic views of the town and the sea.
From these windows, vistors can look out to the horizon and gaze at the famous Bénédictine Palace, the Abbaye and the churches.
The Terre-Neuvas were fishermen who set out in their thousands from France to fish cod in the waters off Newfoundland from the 16th to the 20th century. They salted their fish on board ship and it was not dried until brought back to ports such as Fécamp, which was the French capital of the Terre-Neuvas. The Musée des Pêcheries bears witness to the town's prestigious history and pays tribute to these brave men.
Practical info
The museum is open all week except Tuesdays from 11am to 5:30pm
Entrance fees: from 4€ to 7€
Audioguide available: 2€ per person
Address: 3 Quai Capitaine Jean Recher, 76400 Fécamp
Kuch Kuch Hota Hai in Scotland
|
Furore over tiger poke video