Madhya Pradesh celebrates folk heritage with 'Lokrang Samaroh'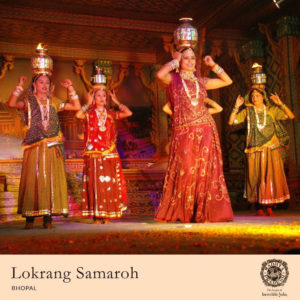 Bhopal (TAN): The Indian state of Madhya Pradesh, like the past 20 years, is hosting Lokrang Samaroh amid much grandeur this year from January 26 to 30.
Bhopal, the state capital, happens to be the venue of five-day cultural carnival.
Organised by the Directorate of Culture and Madhya Pradesh Tribal Museum, Lokrang Samaroh is an annual tribute to the spectacular folk and indigenous traditions of the country through cultural performances spanning from performing arts to art and craft exhibitions. The City of Lakes is all set to host talented artists from across India and the world during the festival.This year, performances include:
Music
'Peer Parayi Jane Na' – performance by Hansraj Hans
Lokrag – folk music from Madhya Pradesh
Dance Recitals
Deshantar – dance performances by international artists
Dharohar – classical dance and music performances
Theatre and films
Ramayni – a theatrical performance based on the Gond community
Ullas – children's film screening, along with puppet show, storytelling sessions and painting exhibition
Other offerings
Aakar – handicraft exhibition
Lokwarta – exhibition of books associated with art and literature
Swad – food fest
The performances will be held at BHEL Dusshera Maidan, and entry will be free for all.
Seabourn cruise line to serve premium caviar to guests
|
New Mumbai-Delhi Rajdhani Express hits tracks