New Mumbai-Delhi Rajdhani Express hits tracks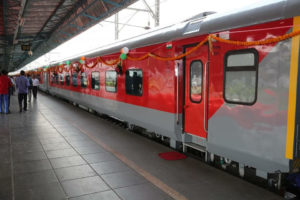 New Delhi (TAN): The Indian Railways has introduced another Rajdhani Express between Mumbai and Delhi, which was flagged off by Railways Minister Piyush Goyal on January 19 this year.
The third Rajdhani Express on this route, the train will connect Delhi's Hazrat Nizamuddin with Chhatrapati Shivaji Maharaj Terminus (CSMT) in Mumbai twice every week.
Starting its journey from Mumbai, the train will stop at Kalyan, Nasik, Jalgaon, Khandwa, Bhopal, Jhansi, and Agra Cantonment stations before arriving at Hazrat Nizamuddin station in Delhi.
The new train has been introduced keeping in mind the passenger load on this route.
Timings and coaches
The train will depart CSMT on Wednesdays and Saturdays at 14.50 hours, and reach Hazrat Nizamuddin at 10.20 hours next day. The return journey will commence from Hazrat Nizamuddin on Thursdays and Sundays at 16.15 hours, and arrive at CSMT at 11.55 hours next day.
Train of firsts
While it is the first Rajdhani on this route to pass through two important Hindi heartland states – Uttar Pradesh and Madhya Pradesh, it is also the first Rajdhani Express in the state to run through Madhya Pradesh, instead of Gujarat, media reports said.
It is the first Rajdhani Express service for the Central Railway, and the first on the route to pass through Bhopal.
Improved services to make journeys better
The Indian Railways have furnished the new train with modern facilities to enhance passenger experience. While each coach has Wi-Fi hotspots, 3D VR headsets and hand-held terminals, First air-conditioned (AC) coach passengers will be provided with Virtual Reality headsets.
Better quality linen, including branded bed sheets will be offered to passengers. First AC coaches will have new curtains, backlit LED pictures, sanitation kits, and window roller blinds for better viewing.
Washroom amenities include modular bio-toilets, handsfree sensor-activated soap dispensers, and taps with water-conserving aerators, among several others, media reports said. To ensure better hygiene, First and Second AC coaches will feature fresh disposable toilet seats, while Third AC coaches will have disposable paper toilet seat covers.
TTEs, or Travelling Ticket Examiners will use hand-held terminals for checking tickets and real-time updating of berth occupancy status.
Passengers can also share their feedback on the services in real time through Aap-ki-Rai mobile app.
Madhya Pradesh celebrates folk heritage with 'Lokrang Samaroh'
|
Indian tourist numbers to Jordan up by 30%