Western Australia set for a bumper wildflower season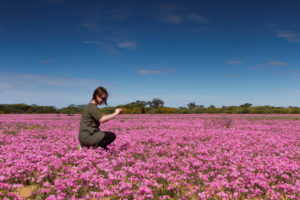 July 19 (TravelAndy): There's never been a better time for travellers to plan a springtime wildflower holiday to WA, with recent rainfall indicating a bumper wildflower season in parts of the State.
WA's wildflower season is the largest flower show on Earth and a true spectacle of colour. With more than 12,000 species, more than 60 per cent of which are found nowhere else in the world, they colour the landscapes from coast to forest and city to outback.
The six-month flowering season begins in the north in June on the vast outback plains of the Pilbara, Goldfields and Coral Coast where vibrant blooms contrast with pindan earth, rugged canyons and turquoise sea.
By September, it will move south and reach Perth's botanical gardens, nature reserves and national parks, finishing with a flurry in October and November throughout the forests and coastal heaths of the South West.
Visitors can take in the spectacles of each region and season on the many the wildflower scenic drives and walking trails. The WA Wildflower Guide contains some great information on where to see the best wildflowers on offer to help visitors plan their trip around Western Australia.
Recommendations for your first Scotland trip
|
Nigella Lawson returns for 2018 Margaret River Gourmet Escape