Nigella Lawson returns for 2018 Margaret River Gourmet Escape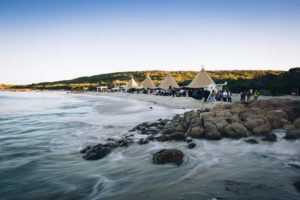 July  20 (TravelAndy): Margaret River Gourmet Escape will return this November (16 to 18) for the seventh annual instalment of the extraordinary festival of food and wine, described by returning star Nigella Lawson as an 'astonishing' event in a 'magical' destination.
Having fallen in love with the Margaret River region when she attended the event in 2016, Nigella will take part in a series of events over the festival weekend including the iconic Gourmet Beach BBQ (Friday November 16, Lunch and Dinner), Nigella's Tea Party at Howard Park Winery (Sunday November 18), as well as appearances and a book signing at the Gourmet Village at Leeuwin Estate (Saturday November 17 and Sunday 18).
Not alone in her affection for the event, other returning stars include crowd-favourites Rick and Jack Stein, Tetsuya Wakuda, Matt Stone, Jo Barrett, Mitch Orr and Guy Grossi, who'll be joined by an impressive line-up of new talent, to host over 45 events in more than 25 unique and breathtaking locations.
International stars visiting the festival for the first time in 2018 include Australian, London-based chef and author Skye Gyngell of Spring, London. Joining her from the UK is MasterChef: The Professionals and TV regular Monica Galetti of Mere, London. Also making their debut are Louis Tikaram who left Australia for the bright lights of West Hollywood to bring Fijian, Chinese and Indian flavours to the LA restaurant E.P. & L.P as well as Chef's Table favourite Niki Nakayama of LA based modern Japanese kaiseki restaurant n/naka.
Hot off the World's 50 Best Restaurants list announcement last month, Julien Royer (Odette SING, Number 28), James Lowe (Lyle's UK, Number 38) and Ashley Palmer-Watts (Dinner by Heston Blumenthal UK, Number 42) will make their way to the food and wine mecca of Margaret River to host extraordinary and memorable dining experiences.
As well as the Gourmet Beach BBQ and Gourmet Village, other iconic and much-loved events including Feast in the Forest, Sunset, Beats & Bites, Fraser Gallop Estate Long Lunch and Dining by Twilight at Margaret River's Secret Garden will return to the program.
The heartbeat of the festival is the Gourmet Village, set on the stunning grounds of Leeuwin Estate Winery. Over the weekend of Saturday 17 and Sunday 18 November(11am to 6pm), the Gourmet Village will be food and wine central with more than 120 artisan food producers, winemakers and brewers from around Western Australia, alongside visiting chefs and wine experts. Guests can enjoy cooking demonstrations at the Chef's Amphitheatre, hear intimate panel discussions at Consuming Conversations and enjoy live music. Children will have the chance to get their hands dirty, with kids cooking classes that will teach positive food habits through fun and interactive workshops. Tickets start at $40 with various packages available.
Western Australia set for a bumper wildflower season
|
Reggae and dancehall music fest in Colombo