Recommendations for your first Scotland trip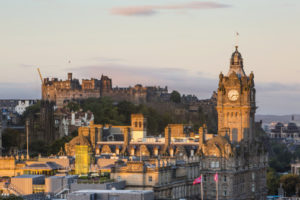 July 18 (TravelAndy): Breathtaking scenery and landscapes are the prime reasons for people to visit Scotland for the first time, VisitScotland has cited research as saying.
Twitter users, as part of a recent campaign to suggest places for former US First Lady Michelle Obama to visit in Scotland, have suggested several places and activities that could be perfect in the itinerary of a first-time visitor to Scotland.
Here's a list of to-dos that could you help you plan your first Scottish getaway.
Hiking in Glencoe: @VirginiaSlimLA singled out "a magnificent area just West of Drumnadrochit filled with snow-capped mountains, loads of waterfalls, lochs, even a derelict castle".
Visiting the Kelpies: A trip to see the magnificent statues which were designed by sculptor Andy Scott was suggested by @sidesoyal who commented "I can't think of anything else other than the #Kelpies to see first…"
Enjoying a dram in Malt Whisky country:  Suggested by @MaryJeanUK who added "Speyside has some of the best scenery, culture and traditions in Scotland."
Edinburgh in August: This was the recommendation of @jokka1977. August marks the busiest period for Edinburgh's world-famous festivals, including the largest arts festival in the world, the Edinburgh Festival Fringe.
Sampling seafood in Oban: Highlighted by @ImagesbyTDashfi
Taking in the beauty of the West Coast: Recommended by @Val97362008, who posted "(the) Stunning West Coast, Arisaig, Mallaig! White sands, blue clear sea and sunsets to chase all evening!!
Source: VisitScotland
Giant iceberg triggers evacuation of Greenland village
|
Western Australia set for a bumper wildflower season