Those outraged show Vilnius campaign works: Ad co-creator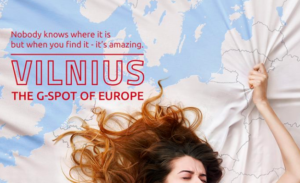 August 10 (TravelAndy): The Lithuanian capital of Vilnius launched a risqué tourism campaign a day ago that had triggered a controversy even before its launch with a poster featuring a woman with her eyes closed lying on a map of Europe and grabbing Lithuania.
"Nobody knows where it is, but when you find it – it's amazing. Vilnius: the G-spot of Europe". That is the campaign wording.
"What's so cool about choosing Vilnius as your next travel destination? Well, first of all, most people can't even point Lithuania or Vilnius out on a map, which is already a great reason for it to appear on any adventurous traveller's bucket list. Lonely Planet recently called it a hidden gem of Europe, but we chose to call it a hidden pleasure," says the campaign website that went live on Thursday.
"In Vilnius you'll find all kinds of pleasures: from the beautiful UNESCO World Heritage-listed Vilnius Old Town, numerous green spaces, and modern party scene, to its remarkable cuisine and of course, rich art and culture. We invite you to try it all. Vilnius welcomes every kind of tourist, as it is affordable and relatively small compared to other European capitals, making it a great place for any budget or trip duration," it says.
The navigation pointers in the website are all innuendos such as "Do it in the dark" for details of nightlife, "Use your tongue" for food and "Get sweating" for activities.
According to reports, Lithuania's government had asked the city to keep the campaign on hold until after the visit of Pope Francis in September. However, the organisers did not agree saying the advertising would end before the pontiff's visit and was in no way associated with him.
"Those who are outraged are only showing that the campaign actually works, because it is making a fuss and provoking discussion," advertisement co-creator Jurgis Ramanauskas told AFP.
Below is a campaign video shared by the city on social media.
Quake hits Lombok tourism, but industry optimistic
|
Go on a storybook trail in Scotland