Two-day electronic & rock music fest at Vilnius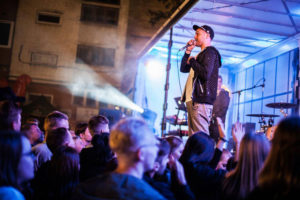 August 22 (TravelAndy): Vilnius starts the autumn season with the two-day Loft Fest rom September 7.
This festival of electronic and rock music is the only city festival in the Baltic States, so you do not have to take a tent. It is likely that you will not sleep for the two days! [ALSO READ: Lithuania's risqué tourism campaign]
The main stage performances will be by the most famous Lithuanian and foreign music stars, such as electroclash starter DJ Hell, who created music for fashion shows, films and exhibitions.
More than 30 intriguing and promising new talent from Europe will appear in the "What's Next in Music ?" Scene . Here's their chance to find new audiences or to be discovered for producer and recording studios. [ALSO READ: Those outraged show Vilnius campaign works: Ad co-creator]
But Loft Fest is not just a music festival. Visit the art scene and the open exhibition of young contemporary artists. Make no mistake – there are plenty of choices in the outskirts of the street. Do not be afraid to search on the dashboard market. In the dark, watch movies and go to the parody. Repeat everything the next day.
This year, different tickets will be available at the festival – one ticket to the festival, and the other – for appearances on the main stage.
The event takes place at Loftas, Švitrigailos g. 29, Vilnius.
How to spend 12 hours in Bangkok
|
Scotland woos foodies with food & drink fortnight