Free room service ends for Carnival Cruise Line guests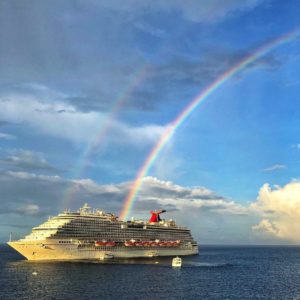 Miami (TAN): We all pretty much know there's no free lunch, but no free room service? Now, that's heartbreaking! Carnival Cruise Line has recently announced it will end complimentary room service on its ships, from mid-January this year.
The company's senior cruise director and brand ambassador John Heald revealed on his Facebook page that they would shift to a fleetwide a la carte stateroom service menu, while keeping prices nominal at USD2 to USD5 per item.
Guests will be charged for lunch, dinner and late-night menus. However, there will be one exception — the continental breakfast, which will be the only room service that will 'continue to be offered free of charge'.
Why the change?
Heald said the move was an attempt in engaging passengers more variety in food choices as well as 'trying to find effective means to continue to reduce food waste'.
According to him, the new pricing structure 'positions Carnival on par with similar charges by other cruise operators in the contemporary market'.
"Maybe I am over hotels because I have stayed in so many and have grown to dislike immensely how the waiter lifts the silver-domed top to reveal two strips of bacon and an egg that I/Carnival have just paid USD37 for. And that leads me into a new room service menu that now includes some very basic charges," he added.
Tipping is important
Also, Heald reminded passengers to continue tipping servers despite price hikes.
"If you do order room service on our ships, please remember to tip the server. A dollar or two is fine because seeing a server carry a tray of food to cabin 2377 and have him place it on the dresser while politely ignoring the sight of someone like me in a Carnival bathrobe that doesn't quite fit properly is bad enough. To have the door slammed in their face with no tip is far, far worse," he said.
Other announcements
Carnival Cruise Line also announced that it will raise the price of the Bottomless Bubbles package to USD8.50 per day for adults and USD5.95 per day for kids, plus gratuity, from January 1, 2019. While the change will implemented across the fleet, including Australia, guests who have already bought the package will not have to pay anything extra.
Edinburgh to charge tourists GBP2 per night
|
Uzbekistan to waive visa for citizens of 45 countries