Venice: Protest against mass tourism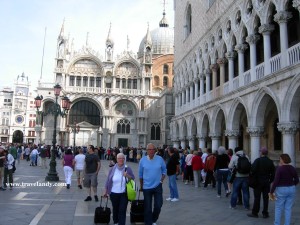 September 12 (TravelAndy): Hundreds of Venetians took to the city streets with trolleys today in protest against mass tourism, said reports.
The protest was organised by Generation 90, a group of people in their twenties and thirties worried about how the local residents are affected by the millions of tourists who visit the city every year.
With "Ocio ae gambe che go el careo (meaning 'Watch your legs — I have my trolley' in the Venetian dialect)" on their lips, the protesters hit the streets of the car-and-two-wheeler-less World Heritage Site city with shopping trolleys and strollers.
 "We're not against tourism per se, just about how it has been badly managed over the years," Giampietro Gagliardi, from Generation 90, told The Telegraph. UK. "Around 65 per cent of tourists who come to Venice come just for the day. They use all the services, like rubbish bins and toilets, but they don't bring any wealth to the city. We want to get away from mass tourism and move towards a more quality market where people stay for four or five days."
Robot lifeguards on Dubai beaches
|
Cauvery protest hits tourism in Karnataka