Kanchendzonga National Park now world heritage site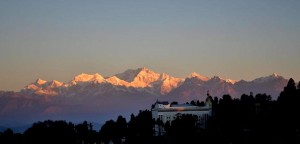 July 21 (TravelAndy): Unesco's World Heritage Committee has named Kanchendzonga National Park in India's Sikkim state a world heritage site.
This is the first time one of India's tourist spots have been listed in the Unesco's "mixed heritage" category. Kanchendzonga National Park or Kanchendzonga Biosphere Reserve has been included as a place exhibiting both cultural and natural importance.
Describing the national park on its site, Unesco says, "Located at the heart of the Himalayan range in northern India (State of Sikkim), the Khangchendzonga National Park includes a unique diversity of plains, valleys, lakes, glaciers and spectacular, snow-capped mountains covered with ancient forests, including the world's third highest peak, Mount Khangchendzonga. Mythological stories are associated with this mountain and with a great number of natural elements (e.g. caves, rivers, lakes, etc.) that are the object of worship by the indigenous people of Sikkim. The sacred meanings of these stories and practices have been integrated with Buddhist beliefs and constitute the basis for Sikkimese identity."
Additionally, Nalanda Mahavihara (Nalanda University) in Bihar and the Capitol Complex in Chandigarh has also made it to the list of world heritage sites.
India is the first country, which has bagged three world heritage labels at a single session hosted by Unesco, said reports.
The world heritage tag awarded to the three places, is expected to add significant momentum to tourism in these regions.
Indian army to organise Siachen trek for civilians
|
Budget airlines increase excess baggage fees