Try book tourism in Baltimore, US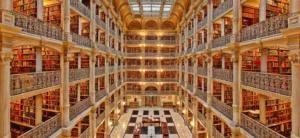 Baltimore, US (TAN): Book tourism is a thing. And a great place to indulge in it is the city of Baltimore in eastern US.
Way back in 1987, the mayor referred to Baltimore as 'the city that reads'. In an article, book discussion website Book Riot says that tag is still relevant. The city has several havens where book lovers could spend hours and hours.
If you love reading, here's why you should go to Baltimore and do a bit of book tourism.
They give away books for free
The Book Thing of Baltimore is a facility that gives away books for free. You can take away as many books at a time as you want.
Their mission, they say, is "to put unwanted books into the hands of those who want them".
Open every Saturday and Sunday from 0900 to 1700 hours,  all their books are free and only need to be stamped "Not for Resale". They get their books through donations.
Not your "normal" bookstore
Talking about the Normals bookstore, situated quite close to The Book Thing, book enthusiast Linda Campbell Franklin writes on Facebook: "This is a bookstore of mostly used books, with towering shelves (securely fastened, I hasten to add), and a dumpy arm chair to sit in (space is limited, and most of it goes to books, vinyl records, CDs, and clown "art"), and it reminds me in a very good way of the famous STRAND bookstore in NYC… I can leave my house and go to Normal's and see cool stuff, talk to cool engaged people, go to wonderful readings and performances. It's been in the same location – within the sound of church bells, just like in London the Cockneys live within the 'sound of bow bells'! Baltimore is sort of Cockney-ish, when you think about it, and Normal's is a great place to hang out, find weird stuff, enjoy the new bathroom sink…  and pay hardly anything for great stuff."
Literary Finds for Mutated Minds
That's the tagline for Atomic Books, which has a offbeat collection of graphic novels and comic books apart from some regular classics. You can also pick up nerdy gifts on sale and attend one (or more of) the events taking place there.
Apart from these, there are several other interesting standalone bookstores in town such as The Ivy Bookshop, Greedy Reads and the popular Red Emma's Bookstore-Coffeehouse.
Libraries
Baltimore has 22 branches of the Enoch Pratt Public Library, which is free for all users. Don't forget to check out "The Cathedral of Books" Peabody Library, which is owned by John Hopkins University.
Where Poe last went to drink and other places
With many famous authors having a Baltimore connection, it is only natural it has several landmarks with literary connects. This makes is the perfect destination for book tourism.
Check out Edgar Allan Poe's house. Or have a drink at the bar he visited the night he died.
Vistara to offer sanitary napkins on board to celebrate Women's Day
|
Oil spill threatens Solomon Islands ecology and tourism