Paperless train travel on Delhi-Palwal route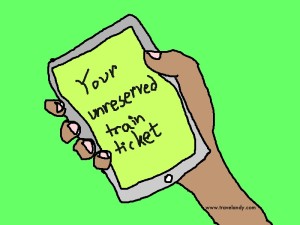 July 29 (TravelAndy): Passengers travelling on trains between New Delhi and Palwal in Haryana will be able to book unreserved tickets through their Android and Windows phones from next month, reports said.
Users will have to download the Unreserved Ticketing System (UTS) application to benefit from this service.
Tickets can be purchased by using credit card, debit card and net banking.
During the journey, the passengers are only required to show their booking details recorded in the mobile handset. No physical tickets will be required.
This is a part of Indian Railways' initiative to help local travellers avoid long queues to purchase unreserved tickets for suburban travel.
New Delhi-Palwal will become the first route in north zone to provide paperless tickets.
This service is already functional in suburban routes connecting Chennai and Mumbai.
The UTS app can be downloaded from Google play store and Windows stores.
The offline ticket counters will remain operational for travellers who choose to purchase physical tickets.
Kerala denies dog cull decision
|
India extends e-tourist visa to China