Sound and light shows to see in Normandy this summer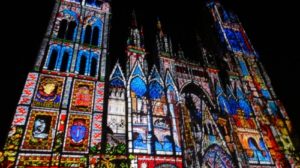 July 13 (TravelAndy): It's that time of year when the sun sets late, temperatures are mild, and it's perfect weather to watch an outdoor sound and light show.
Here is a list of some awesome show on in Normandy this summer.
ROUEN
Every summer, hundreds of thousands of spectators line the square in front of Rouen cathedral to watch the facade come to life. This season, your eyes are sure to light up when you see the spectacular visuals narrating the story of William the Conqueror. The second show features the myth around Joan of Arc, Rouen's most iconic figure.
From 15 June to 22 September 2018 at nightfall. Free!
BAYEUX
In Bayeux, the light show is displayed not only on the cathedral but also on the magnificent tree trunk at the centre of the square. In an array of vibrant colours, ten stories celebrating France's journey to freedom and liberty are portrayed. Pure magic!
On Tuesdays, Thursdays and Saturdays at nightfall, from 17 July to 1 September 2018. Free!
SÉES
Sées Cathedral in the south of Normandy will also run its annual Musilumières sound and light show on weekends throughout the summer, telling the tale of Sées, 'city of light'. Get ready to travel back in time to 1209, the year the cathedral was built!
On Friday and Saturday evenings in July, August and September (see calendar for exact dates). €5-14€
THE PERCHE
New to Normandy is the Perche Passion light show at the Manoir du Courboyer in the heart of the beautiful Perche Regional Nature Park. This action‑packed visual spectacle explores the history and heritage of the Perche region, particularly famous for its draft horses and delicious gastronomic fare.
On Fridays and Saturdays at 10:30pm from 13 July to 11 August at the Manoir du Corboyer. €5-€12
Source: normandie-tourisme.fr
Vancouver's Rainbow events schedule
|
Audio tour boost to tourism in Loch Earn, Scotland