V&A Dundee opening strengthens Japan & Scotland links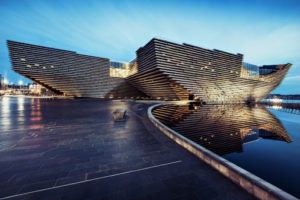 July 8 (TravelAndy): The eagerly anticipated opening of V&A Dundee was among the experiences highlighted to travel trade and airline contacts during a visit to Japan by Scottish Cabinet Secretary for Culture, Europe and External Affairs, Fiona Hyslop.
The renowned attraction, which will open on Dundee's waterfront in September, marks a unique opportunity to position Scotland as a place to live and work, study, invest and visit to Japanese visitors, the Cabinet Secretary has said.
The stunning structure, designed by acclaimed Japanese architect Kengo Kuma – who also designed the 2020 Olympic Stadium in Tokyo – is expected to attract 350,000 visitors each year. It is the first V&A museum to be created outside of London and has become a valuable addition of Scotland's cultural offering.
The arrival of the country's first design museum, inspired by Kuma's travels around Scotland, follows strong historical links between Japan and Scotland. It has been hailed as a 'perfect illustration' of the links between culture and tourism and Japan and Scotland.
Thomas Blake Glover, the Scottish Samurai, and Masataka Taketsuru, the father of Japanese whisky, are two examples of how the countries have prospered by citiziens' interest in experiencing one another's countries.
As a tourism market, the Japanese outbound market is forecast to grow, reaching over 30 million visits abroad by 2025. The recent ministerial visit aims to strengthen links between the two countries and showcase Scotland as one of the world's most exciting visitor destinations.
Tourism Secretary Fiona Hyslop said: "The links between culture and tourism and Japan and Scotland are perfectly illustrated at V&A Dundee. The museum will showcase the best of Scottish design and has made Dundee a must visit destination. It also demonstrates what can be achieved when our countries work together, with renowned award-winning Japanese architects Kengo Kuma & Associates designing the stunning building in one of Scotland's vibrant cities."
Christina Bruns, VisitScotland Senior Marketing Manager – Long Haul – said: "Scotland has many of the attributes that Japanese visitors enjoy – majestic landscapes, castles, whisky, luxury and unique experiences. We know that this market is extremely sophisticated, and that their travels are most regularly driven by the need for cultural experience. V&A Dundee will create an unmissable cultural highlight and will build on the strong links between Scotland and Japan, encouraging more visits to and from one another's countries. Our aim now is to extend our famous warm welcome to even more Japanese visitors now and in the years to come."
As well as the opening of V&A Dundee in September 2018, next year will see the countries come face to face in the Rugby World Cup in Japan. While earlier this year Scotland welcomed the Japanese Ambassador to the UK at Blervie House, Moray.
Source: VisitScotland
7 tips to master travelling with a disability
|
New suspension bridge opening at Whistler