My best overnight train ride was in Thailand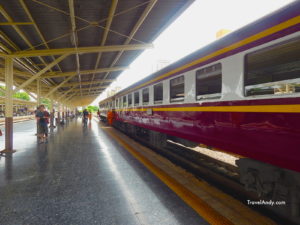 In 2011 — the last time I had made the journey from Bangkok to Surat Thani — I had travelled by bus. The bus wasn't  uncomfortable, but this time — in 2017 — my friend and I chose to travel by train.
We made our reservations beforehand and got into our Second class AC (air-conditioned) coach on a wet June evening.
The problem with reserving seats on Thai trains is that their system is a little complicated and you can't just go on their site and book a ticket. You need to email them beforehand and then on the day of your journey, collect the physical ticket from the station for a fee. And apparently, there have been instances when the railways have been really late in replying to emails.
Some research on the Internet revealed that booking the tickets through this travel agency called 12Go Asia was hassle free and that is what I did. After you make the payment to them, they send someone to buy the ticket for you and they keep your tickets safe till you go and collect it from their office, which is situated right opposite the Bangkok train station, called Hua Lamphong.
A Second class AC upper berth cost THB717 and the lower berth THB808. The booking agency charged us THB500 for these two tickets (but it gave us a refund of THB90 for some reason, so they effectively charged us THB410).
We found our seats — two sofas facing each other with a shared window. Each of the sofas  could easily seat two people. We tried figuring out where the top bunk was but there was pretty much nothing there but a raised panel with a tiny hole in its middle (picture below).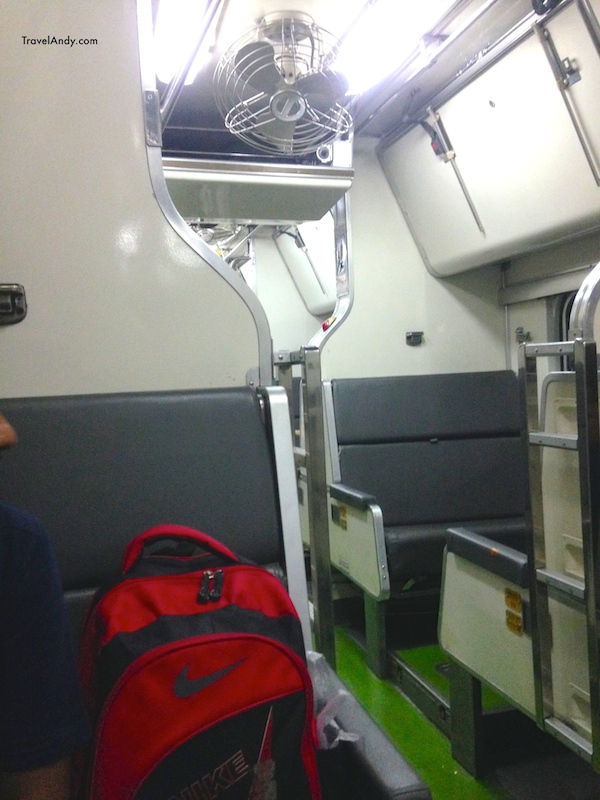 A little while after my friend and I had made ourselves comfortable in the soft sofas, a smiling woman came up and handed us a menu. If we wanted to order dinner and breakfast, we had to do it then. We chose a THB190 meal which had juice, soup, rice, chicken, bananas and some Oreo biscuits. The food was tasty and the quantity was excellent. We ordered another THB60 orange juice for breakfast.
The food came around 8.30pm. The same woman pulled out a wooden plank from below a seat and fixed it between the two facing sofas to act as a table.
A little while after we were done with dinner, a railway attendant came to make our beds. He politely gestured us to wait as he turned the two sofas into one bed. Then he inserted a key into the little hole above our heads and the upper bunk appeared! Bed sheets, blankets, pillows, pillow covers and curtains were all stored in the upper berth. He got this all out and in less than five minutes, we were all set for a very comfortable sleep.
Have a look:
The lower bunk is quite a bit broader than the upper one (and hence costs more). But both the beds are equally comfortable.
I slept so well that night. I have taken a lot of overnight trains and this, by all means, was the best.
The only negative I found about the experience was the inadequate number of charging points. They were located only in the middle of the compartment and the ends.
The next time I take an overnight train in Thailand, I am going to travel First Class AC. With Second Class this good, I really have to find out what the First Class experience is all about!
How to secure a China tourist visa
|
Koh Phangan beyond Full Moon Party: Bottle beach