Full Moon Party: Dos and don'ts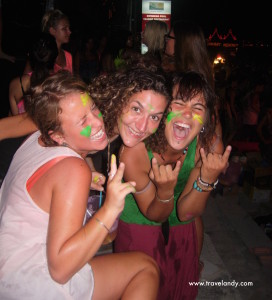 There is much more to Koh Phangan (koh means island in Thai) than the Full Moon Party (FMP). But probably more than 70 per cent of the people visiting this island in the Gulf of Thailand do it just for this party.
Just in case you don't know about it, the Full Moon Party is held once every month on or around the full moon and this is among the world's largest rave parties.  In fact, this one party drives the economy of the island.
Follow these Full Moon Party dos and don'ts to make the most of your stay on Koh Phangan.
If you're heading to the FMP via Bangkok, it makes sense to book your bus/train and boat combo ticket well in advance (2-3 weeks before D-Day) because as the dates approach, the seats fill quickly and the fares go up by hundreds of baht. Also check out the Bangkok-Koh Samui air fares. Booking in advance can give you a good deal. Koh Phangan is one hour by boat from Koh Samui.
Thongsala is the main town of Koh Phangan and also the principal ferry terminal. Boats coming from Surat Thani and Chumphon piers in the mainland and Koh Samui and Koh Tao dock here.
About accommodation on the island, though your agent in Bangkok will swear that you will have to sleep on the beach if you don't book a room well in time, this is not entirely true. When I landed on Koh Phangan two days before the party, there were several people on the pier asking if I wanted a room. I spoke to one of them and found the prices quite reasonable. But if you are not the adventurous kind, it makes sense to book a room ahead of your visit.
In case you haven't booked a room before, the further you move from the south of the island (where the FMP takes place), the more your chances of finding a room. And on the FMP night, taxis run to pretty much all over the island from Haad Rin (haad is beach in Thai), the FMP venue. So, don't worry if you got a room at Srithanu or Haad Yao, some 20km away from the party beach. If you want to return to your room at 4am, you will get taxis.
In the north of the island, the rents are usually less than that of places closer to Haad Rin. And during the party, almost all places near the beach will make it mandatory for you to book for at least three or four days. But bungalows far from the beach are less likely to do this.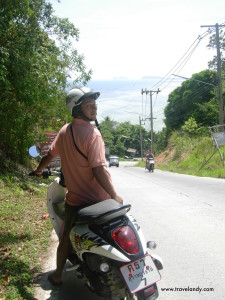 The first thing to do after you've found a place to stay is rent a motorcycle. You can also rent bicycles and jeeps, but I think a motorcycle works best. These are basic accelerator and brake two-wheelers with no gear/clutch and a great way to go around. It's very easy to find gasoline in most areas. You have to keep your passport as deposit to rent a two wheeler. Check whether your motorcycle has any dents and make them note that down, otherwise, they might charge you for damage later. To be doubly sure, take a picture of it before renting it.
Now get on your motorcycle and check out the several beautiful beaches. Some of these, along the north and north-west coast, are great snorkelling areas. But be careful with the sharp underwater rocks. Also see the Phaeng waterfall in the central part of the island. Even though it didn't have much water when I went, the hike to it was pretty interesting. There are also some more waterfalls in the island and some beaches on the eastern side that are only accessible by foot (hike through hills) or boat. Food and stay on such secluded beaches may be a little costly, but the experience is pretty impressive.
If you like hammocks, there's a Mr Moon selling hand-made ones at his shop on the way from Thong Sala to Haad Rin. Check it out. A friend of mine took me there because he wanted to buy one. We tried a lot of them out and they were pretty good and Mr Moon told us: "It can hold 250kg. You can get in with your girlfriend!" They are not cheap but really big and comfortable. I bought one for 1,500 baht.
From what you have read and heard about the FMP before going there, you may have pictured complete chaos. Interestingly, it's a very well organised party despite having all the ingredients for mayhem.
If you plan to get dead drunk, don't carry your camera and much cash on you. Don't go barefoot because some idiot may have left his broken beer bottle on the beach.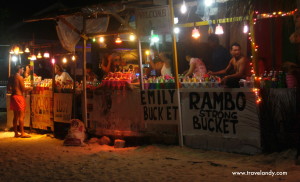 If you are looking to save money, buy your drinks from Seven Eleven instead of the makeshift shops on the beach. Beware, there is a big store on the beach near The Rock that looks very similar to Seven Eleven, but is not so. The Seven Eleven nearest to the beach is a two-minute walk away.
Cops in plainclothes are present in large numbers on the beach, so in case you are doing drugs, be discreet. If you are looking to get high, there is no end of stuff available to get you there. But if you ask me, the FMP is the one place you should NOT get drunk and out. Get a little high, but be sane enough to observe and register the crazy stuff going on all around you.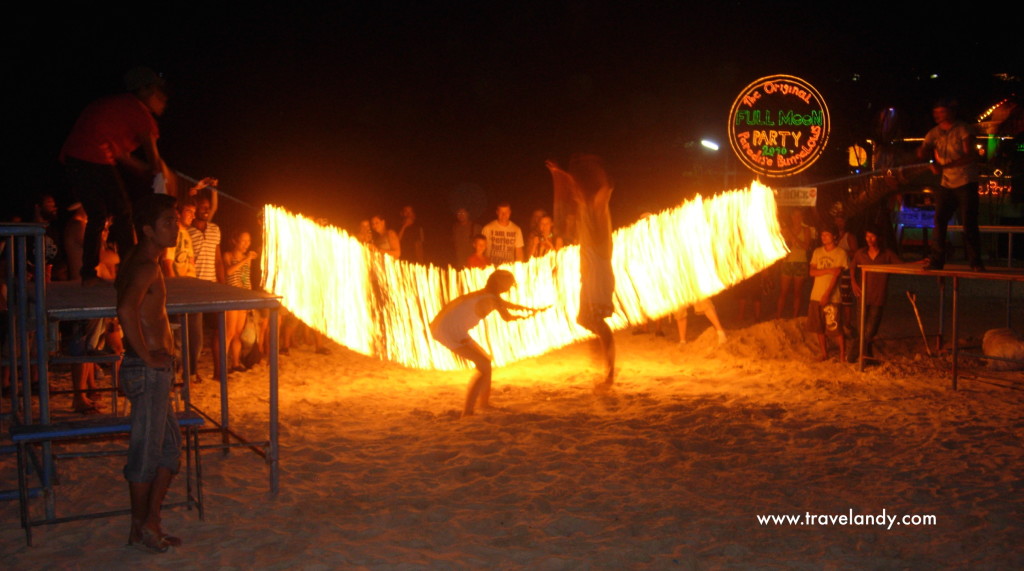 If you are way too high, don't attempt the fire games. Sober people get burnt.
When you come to the party, leave your rented motorcycle behind. DO NOT plan to ride your two-wheeler back. The road to Haad Rin is pretty much like a roller coaster and sober people have problems riding on these hilly stretches. Take a taxi.
Okay, enough advice. Now let yourself loose and enjoy the party!
10 things to know before going to Japan
|
Travelogue: Yoron island in Japan