Tourist deluge inundates Dubrovnik in Croatia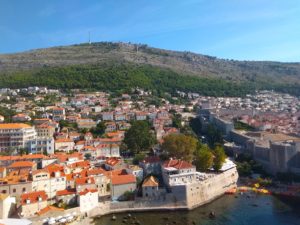 September 23 (TravelAndy): The old Croatian town of Dubrovnik is bursting at its seams with swarms of tourists visiting the place every day to see the shooting locations of popular TV series Game of Thrones.
Several cruise ships anchor at the Unesco World Heritage Site on a daily basis and empty thousands of tourists on the streets of the town of 2,500 residents.
"It's like living in the middle of Disneyland," AP quotes a town resident. "We feel sorry for ourselves, but also for them (the tourists) because they can't feel the town anymore because they are knocking into other tourists."
Swagata Basu from India, who visited the town earlier this month with her Game of Thrones fan friend, said: "Dubrovnik is amazingly beautiful. I just wish there were less people jostling around."
So, just in case you are a Game of Thrones fan planning a visit to Dubrovnik, be aware that the reality might very well not match the King's Landing in your head.
Town declares itself Scotland's Chilli Capital
|
Thousands in Munnar to see once-in-12-years flower