Town declares itself Scotland's Chilli Capital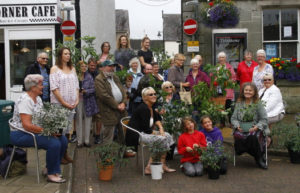 September 22 (TravelAndy): A Small town in Dumfries & Galloway has declared itself the Chilli Capital of Scotland after the popularity of a local club gathered heat!
More than 1,000 chilli plants – and over 50 different international varieties – are currently being grown by the people of Langholm. More than 20 local businesses in the town have their chilli plants on display and a third of all households – around 350 – are growing their own.
By declaring the town the Chilli Capital of Scotland, the Langholm Chilli Club is hoping to attract visitors with the development of a new Chilli Trail and the first ever Chilli Fest at the end of September.
In Langholm, the Chilli Capital of Scotland, there are currently:
around 350 households growing chilli plants (Langholm has a population of 1800 and around 910 households) or one third of households
3500+ chilli seeds have been planted in the town in 2018
at least 1,000 chilli plants
53 different varieties of chilli, including the 'Hottest Chilli' the Carolina Reaper
25 local businesses have their chillis on display
Langholm Chilli Club has around 60 people waiting to receive seeds and members across the world including Canada, US and Portugal.
Mark Hodgson, Langholm Chilli Club spokesperson, said the idea had  started as a joke during the quieter winter months, but had quickly captured the attention of locals young and old.
He said: "I don't think this could have happened anywhere else. In a town like Langholm, everyone knows who everyone is… that's the magic of Langholm. People heard about it from their friend or neighbour and started to get involved and before we knew it, here we are.
"It really is a community effort to raise the profile of the town. By developing the Chilli Trail, we hope to get people to stop, explore and engage in what really is a unique community. We want to put Langholm on the map and become known as the Chilli Capital of Scotland.
"With so many people getting involved, purely for fun, it really has had a positive impact of the community. I can't believe all this has happened within the space of a year and we are now holding our first ever Chilli Fest in September with plans to provide everyone in the town with seeds to grow their own chilli plant next year."
The Langholm Chilli Fest takes place on Saturday, September 22.
As well as prizes for the biggest, longest and weirdest chilli, there will also be a free tasting session, chilli plants on display and a chilli eating contest.
Virgin starts direct flights between Perth & Hobart
|
Tourist deluge inundates Dubrovnik in Croatia