Drink 'feni' but don't do drugs: Minister advises visitors to Goa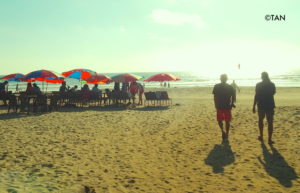 Panjim (TAN): Don't do drugs but drink the local liquor "feni" to get high, the tourism minister of the India's coastal state Goa has advised tourists.
Answering a question on the use of drugs at EDM events in Goa, minister Manohar Ajgaonkar said: "Enjoy the music, drink cashew feni, but do not indulge in drugs."
"We have taken precautions that drugs are not introduced during electronic dance music (EDM) festivals," the minister told reporters this week. Goa has a lively EDM scene.
Minister Ajgaonkar said tourists were entitled to have fun but were required to follow rules. 
At this time, Goa is imposing a new rule across the state, which is very popular with foreign tourists, to ban drinking on the beaches.
According to the new rule, people drinking on beaches are fined INR 2,000. Repeat offenders are fined INR 10,000.
Myanmar: French tourist spends a month in jail for flying drone
|
Tourists in New York City line up to visit Manhattan night court