Botswana's elephant hunting proposal triggers debate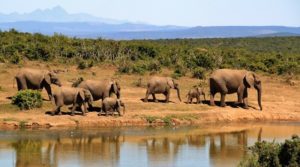 Gaborone (TAN): The Botswana government's proposal to withdraw its ban on hunting elephants has trigged a big debate on social media.
According to reports, the proposal was timed ahead of elections and aimed to satisfy rural communities that had earlier been adversely economically affected by the hunting ban. The panel is said to have made the recommendations with only minimal consultation with the tourism industry stakeholders.
In the Cabinet Sub-Committee on Hunting Ban Social Dialogue report, it has been proposed to lift the ban on hunting.
"Regular but limited elephant culling be introduced and establishment of elephant meat canning, including production of pet food and processing into other by products," it says.
Former Bostwana President Ian Khama had introduced the hunting ban in 2014.
"Botswana has created an enviable reputation consistently over the decades as a leading tourism destination," Beks Ndlovu of African Bush Camps tells The South African. "These policies (non-hunting) have created an iconic safari destination and an industry that is the second largest in Botswana, bringing jobs and prosperity to many of Botswana's citizens."
In 2017, the tourism industry gave employment to around 76,000 people and contributed 11.5 per cent to the landlocked Botswana's GDP, reports said.
With the proposal to lift the hunting ban, many have called for tourists to boycott Botswana.
Apart from the hunting proposal, questions have been raised on other aspects of the report that call for closing of wildlife migratory routes that are "not beneficial to the country's conservation efforts".
Iceland is facing a similar situation
The tourism industry in Iceland has been going through a somewhat similar situation in recent weeks. The country's government recently announced it would continue whaling for another five years.
Iceland has witnessed a tourism boom over the past several years, especially with the hit TV series Game of Thrones showing its breathtaking landscapes. In 2016, tourism revenue for the first time outstripped that of fishing.
With the tourism growth already showing signs of stabilising, the industry doesn't want anything else to slow growth. The Icelandic Travel Industry Association argues while Iceland's "market for whale meat is Japan, Norway and the Republic of Palau", the country's tourism market "is the entire globe".
"We've been pointing out that the tourist doesn't just appear on the deck of the whale watching boat," Icelandic Travel Industry Association managing director Skulason told Quartz. "The tourist goes through a long period of planning his vacation, where he wants to go and do, and there are a lot of things that affect that decision — news of Icelandic whaling can be one of these influencing factors."
Iceland closes Justin Bieber canyon till June
|
Vietnam's Hanoi named cheapest Asian city for backpackers