Jane Goodall to sound sustainable tourism bugle in Sierra Leone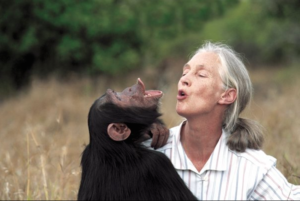 Freetown, Sierra Leone (TAN): Jane Goodall, a British primatologist most known for her long-term study of wild chimpanzees in Tanzania, began her tryst with Sierra Leone 27 years ago. Goodall is returning there to mark the anniversary of her journey and also start a new tourism initiative in the country.
The country of Sierra Leone has had a troubled past but is looking ahead with renewed hope to reach out to tourists from all over the world and put forward a unique destination with a strong sustainable tourism message.
During her three day visit to Sierra Leone from February 27 to March 1, 2019, Jane Goodall (84) will visit the Tacugama Chimpanzee Sanctuary, which she had an important role in founding.
The sanctuary plays a unique role in conservation, protecting the chimpanzee population, providing local people with jobs, protecting the wildlife, environmental education, ecotourism, research and health initiatives. Goodall plays an active role, providing inspiration and guidance.
"We look forward to welcoming Jane Goodall," Fatima Bio, the First Lady of Sierra Leone, was quoted by Travel Pulse assaying.
"Her visit allows us to share Sierra Leone's story with the world and to revitalize the international image of our country, which is critical for the development of sustainable tourism, conservation, and economic development. The beauty of our natural diversity, wildlife and culture is also a story that we want to share," Bio said.
While conservation and sustainability will be the focal point of Goodall's visit, the country also hopes to reposition itself in the minds of travellers and overcome its troubled past.
Sierra Leone is home to one of the highest densities of chimpanzees in the wild in the world as well as other endangered species, such as the Diana monkey, colobus monkey, rare birds and the pygmy hippo.
India e-tourist visa now valid for 1 yr; continuous stay for 90/180 days
|
Japan is on the verge of a tourism spike, but it has hurdles to cross