Iceland closes Justin Bieber canyon till June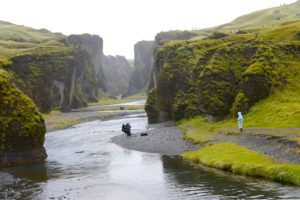 Reykjavik (TAN): The Iceland government has closed the popular Fjadrargljufur canyon to the public in order to conserve its fragile ecosystem that has been affected by a humid winter and a large number of tourists, media reports said.
The relatively unknown canyon has been flooded by tourists since being featured in a 2015 Justin Bieber 'I'll Show You' music video. Fjadrargljufur is around 100 meters deep and some 2km long with steep green walls and a meandering riverbed.
I'll Show You has 440 million views on YouTube.
Speaking to the news agency AFP, agency advisor Daniel Freyr Jonsson said: "During periods of thaw, the path is completely muddy and is practically unusable for hikers.
"Because the mud is so thick, visitors step over the fences and walk parallel to the path, which rapidly damages the plant life." 
Estimating that around 300,000 people visited the site in 2018, Jonsson said tourist numbers have climbed by 50-80 per cent every year since 2016.
The island country has witnessed a tourism boom over the past several years, especially with the hit TV series Game of Thrones showing its breathtaking landscapes.
In 2016, tourism revenue for the first time outstripped that of fishing.
Up to INR 1,000 off under SpiceJet's 'Terrific Tuesday' deal
|
Botswana's elephant hunting proposal triggers debate