Shinju Matsuri starts in Broome from Sep 2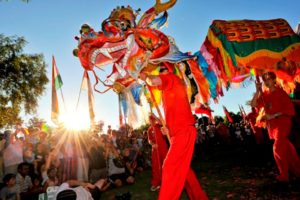 September 1 (TravelAndy): Shinju Matsuri (festival of the pearl) has always been a festival based on Broome's unique community spirit, cultural diversity and vibrant history.
The festival celebrates the four diverse cultures which have come together in Broome over the past century for pearls: Japanese, Malaysian, Chinese and Indigenous Australian.
Shinju Matsuri will always encapsulate the values of the Broome community, running annually since 1970.
Come to Broome, Western Australia, this year to discover the arts, food, community and cultural program of events of Shinju Matsuri from September 2 to September 10, 2017.
Shinju Matsuri will tempt your senses with an exciting whirlwind of colour, sound, taste and smell as the community shares this beautiful locale with the world and the people who call it home.
Going to the Scottish International Airshow?
|
Fly high at Australia's ballooning championships