Australia: Aboriginal tour group goes online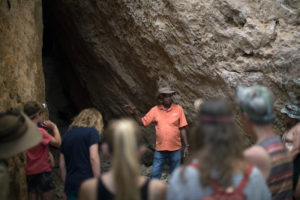 June 15 (TravelAndy): Bungoolee Tours has launched a new website, allowing visitors to book tours online.
There is the option to join respected Bunuba elder Dillon Andrews on a culturally insightful journey through the heart of Windjana Gorge, or venture deep beneath the limestone of Napier Range and discover the secrets of Tunnel Creek and its spiritual significance to the Bunuba people.
While there, tour-goers have a chance to meet Boab Nut Carvers, who share the unique local story behind each carving.
Bungoolee Tours has received support through the Aboriginal Tourism Development Program, which aims to raise the standard of product delivery and promotion of Aboriginal tourism in regional Western Australia. The program is managed by Tourism WA through state government funding provided to the Western Australian Indigenous Tourism Operators Council.
Click here to visit the new website.
Source: Tourism WA
Sheep festival in Scotland seeks volunteers
|
Sharjah attracts visitors with its gorgeous mosques