Broome in Western Australia gears up for Shinju Matsuri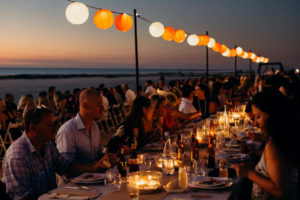 June 11 (TravelAndy): Celebrity chefs Adam Liaw and Marion Grasby  will headline this year's Shinju Matsuri (festival of the pearl) to be held August 25 – September 2 in Broome – the pearling capital of Australia in WA's North West.
Shinju Matsuri is the much loved festival which encapsulates everything that is Broome and the surrounding areas of the Kimberley region. Featuring an incredible kaleidoscope of events, Shinju Matsuri pays tribute to their heritage and culture.
Celebrating four diverse cultures that have come together in Broome for pearls – Japanese, Malaysian, Chinese and Indigenous Australian – Shinju Matsuri features a unique dining program in extraordinary locations.
This year Adam Liaw and Marion Grasby join forces at the popular Sunset Long Table Dinner, held on Broome's Cable Beach on September 1. The Willie Creek Pearl Meat Cook-Off is also returning and will see Broome's best chefs compete to create the best dish featuring pearl meat, a rare delicacy from the famous pearl-producing oysters native to the region. The event will feature beer, wine and pearl meat tastings, with Adam Liaw as guest judge.
Adam also headlines new event, the Pearl Harvest Yum Cha – an open-air dining experience along Dampier Terrace in Broome's historic Chinatown on August 30. Tickets include all you can eat Chinese Yum Cha. Other event highlights include a Float Parade through the streets of Broome, Art Awards, Floating Lantern Matsuri and a Festival Finale concert.
Tickets for the events are now on sale, with travel packages available featuring accommodation and tickets to selected events.
Find more details about the festival here.
Ireland woos tourists from China
|
Uzbekistan to develop free tourist zone at Charvak