Going to the Scottish International Airshow?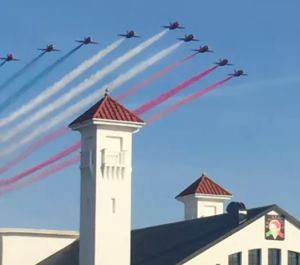 August 30 (TravelAndy): Visitors to the Scottish International Air Show are in for an 'udderly' fantastic treat when they arrive at the Ayrshire event this weekend.
One of VisitScotland's distinctive herd of Highland Cow vans – coo vans called Hamish, Heather, Morag and Archie – will be making a special appearance at Ayr Low Green on 2nd to 3rd September to help ensure the hundred thousand spectators to the air spectacle receive a warm welcome.
With its stunning location overlooking the picturesque Firth of Clyde and Isle of Arran, around 120,000 spectators are expected at this year's Scottish International Air Show. The highlights of this year's show include the RAF's supersonic Typhoon fighter as well as a formation of WW2 American Mustangs with the Red Arrow providing the spectacular finale on Sunday afternoon. The Kelpie Maquettes will also be making an appearance at the event, which is now in its fourth year.
The arrival of the national tourism organisation's outreach information team comes at a busy time for the team as they travel the length and breadth of the country providing inspiration and information at events, visitor attractions and tourism hotspots.
The coo-vans and their specially trained coo-visors have already visited more than 40 events and around 130 different visitor attractions in 2017 since hitting the road at the end of March and will appear at many more before finishing up for the year in early November.
VisitScotland regional director Annique Armstrong said: "The coo-vans are part of VisitScotland's strategy to provide inspiration in new and innovative ways and in doing so extend a 'personal touch' to outreach marketing activity, passing on distinctive information about things to see and do throughout the country.
"They have become a real talking point among visitors to events across Scotland and our team are looking forward to welcoming visitors to the Scottish International Airshow and helping to ensure that they make the most of all that there is to see and do in Ayrshire."
Scottish International Airshow director Doug Maclean said: "We are delighted to welcome VisitScotland's Coo Van and outreach team to this year's Scottish International Airshow. It will feel most welcome as we have Scotland's most popular artist, Steven Brown, opening the Airshow and making personal appearances at his own McCoo marquee. We are looking forward to welcoming around 120,000 spectators to this year's two-day aviation and entertainment extravaganza and we want to ensure that visitors enjoy their time in the area and receive the warmest of Ayrshire welcomes."
For more information on the event, visit Tsia.scot.
Ryanair winter flights boost for Irish tourism
|
Shinju Matsuri starts in Broome from Sep 2