Israel makes efforts to save Dead Sea, which is drying up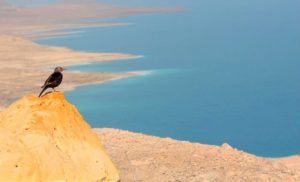 Jerusalem (TAN): The government of Israel is making efforts to preserve and save its biggest tourist attraction – Dead Sea.
According to a report in Xinhua, 70 per cent tourists who visit Israel come to see the Dead Sea, which is now drying up at an alarming rate.
New hotels and resorts are coming up along the coast to cater to the huge number of tourists but the irony is the seawater is quickly receding. The water body, which used to be one single stretch, is now dotted with islands. 
"The Dead Sea loses the equivalent of 600 Olympic swimming pools every day, 750 million cubic inches of water a year," Xinhua quoted Jake Ben Zaken, who operates the only commercial boat allowed into the Dead Sea, as saying.
Ben Zaken says not enough water is entering the Dead Sea and this is why the water level is decreasing. Chemical companies in Israel and Jordan, which share the Dead Sea, are apparently depleting it for their works.
"The bright side is that since it's man made, it's fixable," he said.
"The Dead Sea is not an ecological disaster yet, but we are in a demographic disaster that people are leaving," Ben Zaken said, according to Xinhua. "We have become a graveyard."
To save the water body, the Israel government constituted the Dead Sea Preservation Government Company (DSPG).
As part of this, beaches have been developed and a mall built. Chief financial officer of DSPG Nir Kedmi said: "Our strategic plan here is to make a high standard well-being resort area."
"Before we made the plans, we made extensive research about environmental issues. No stone here was left without taking care," the report quoted Kedmi as saying.
The process has become and with the Dead Sea being such a huge tourist attraction, there is motivation enough for the government to ensure its preservation.
Oil spill threatens Solomon Islands ecology and tourism
|
Up to EUR 2,500 fine for wearing flip-flops at Cinque Terre, Italy