Up to EUR 2,500 fine for wearing flip-flops at Cinque Terre, Italy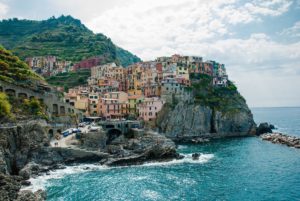 Cinque Terre, Italy (TAN): Tourists at Cinque Terre in the Italian Riviera wearing inappropriate footwear could face fines up to EUR 2,500 this year because the authorities are tired of rescuing people from the precarious hiking trails wearing flip-flops despite signage advising tourists otherwise.
"The problem is that people come here thinking they are at the seaside, but the paths above the villages are like mountain trails," Patrizio Scarpellini, the head of the Cinque Terre national park, told Italian media.
According to a report in The Local Italy, the authorities will distribute leaflets and put up posters advising people against wearing flip-flops, pumps or other flat-soled shoes on the trails at Cinque Terre. Officials will also be checking visitors' footwear before they start slapping fines.
"We use the helicopter to rescue a lot of holidaymakers. Usually they've fallen down along the road of the Cinque Terre or they've injured themselves because of a lack of experience or equipment," one rescue helicopter pilot told The Local. Helicopter rescue services cost the authorities up to EUR 5,000 an hour.
The region sees approximately 2.5 million visitors a year. Experts, The Local said, have been warning about the unsustainable level of tourism is choking the life out of the Cinque Terre's towns of  Monterosso al Mare, Vernazza, Corniglia, Manarola and Riomaggiore.
All of these towns are located inside the Unesco World Heritage national park.
But the authorities plan to conduct awareness campaigns among tourists before slapping the fines.
"First we will introduce the information campaign, then we'll start issuing fines," Scarpellini said.
Israel makes efforts to save Dead Sea, which is drying up
|
Community rallies to restore defunct rail bridge in Australia