Interview: Why Anna loves India

Foreign visitors to India, especially if they are women, usually think twice before deciding to travel in the sub-continent. The media has not been kind to India in recent times, and not entirely without reason. The country has, in many aspects, failed to be what we refer to as "tourist-friendly".
But that's just me talking.
I spoke to Anna Phipps from the UK, who has spend six months (spread over two trips) travelling around India. Read on to find out what she loves this country and why you too should give India a chance.
Andy: How many times have you been to India? Could you tell us a little about your latest trip?
Anna: I've been to India twice now, and already planning the third trip!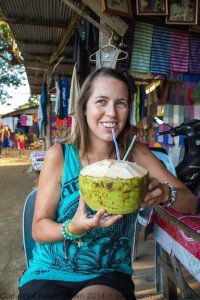 My first trip in 2013, I did find a huge culture shock and also very challenging, this was made worse because we tried to rush around as much of India as we could in two months. But there were still so many amazing moments and I felt something special.
After I left, I traveled through South East Asia and spent a year working in Australia. But India was always calling me back and I'm so glad that I heeded the call!
My second trip to India was so much easier, I spent four months and got much more immersed in the culture which lead to a much better experience. I volunteered for a month in Bangalore, stayed with friends over Christmas and New Year in Mumbai then I rented a cute little house in Goa for two months, fell in love with the magical Hampi, visited Kerala on a special trip called the Kerala Blog Express with Kerala Tourism and then visited Calcutta. I also slept in a mud hut and looked for tigers in the Sundarbans! [These are the highlights from my time in India]
I just left and honestly, I really had to drag myself to the airport – I didn't want to leave! I feel more alive in India and it feels like a part of my heart is missing back in India. I'm already planning to return before the end of the year!
Andy: There has been a lot of negative publicity about how unsafe is it for female travellers in India. What is your take?
Anna: Personally I hate that kind of scare-mongering, negative and stereotyping media coverage. I think it's important to keep things in perspective and my from my experience, I would hate the negative media to stop women from discovering what I feel is the most incredible, rewarding and captivating travel destination there is!
I would hate the negative media to stop women from discovering what I feel is the most incredible, rewarding and captivating travel destination there is!
The most important thing I've learned from over two years of full time travel is that the world is not a scary place and people all over are inherently kind! Sometimes, we need to switch off the news and actually go and experience the world — it's often a lot less scary than they make it out to be!
Andy: Do you have any tips for women planning to come to India and travel on their own?
Anna: That said, yes I do believe that women need to be cautious in India, understand the cultural differences and adapt the way that they travel to suit. There are several strategies that I follow that I have helped to keep me safe (check out my safety tips for women travelling in India), most of it becomes common sense after a while and with sensible precautions, I don't feel any less safe in Mumbai than I do in London.
I don't feel any less safe in Mumbai than I do in London
My biggest tip for women would be to be dress conservatively, be careful who you trust and just be confident and assertive, but most of all keep it in perspective and don't let fear put you off discovering the most mind blowing, amazing, transformative travel destination.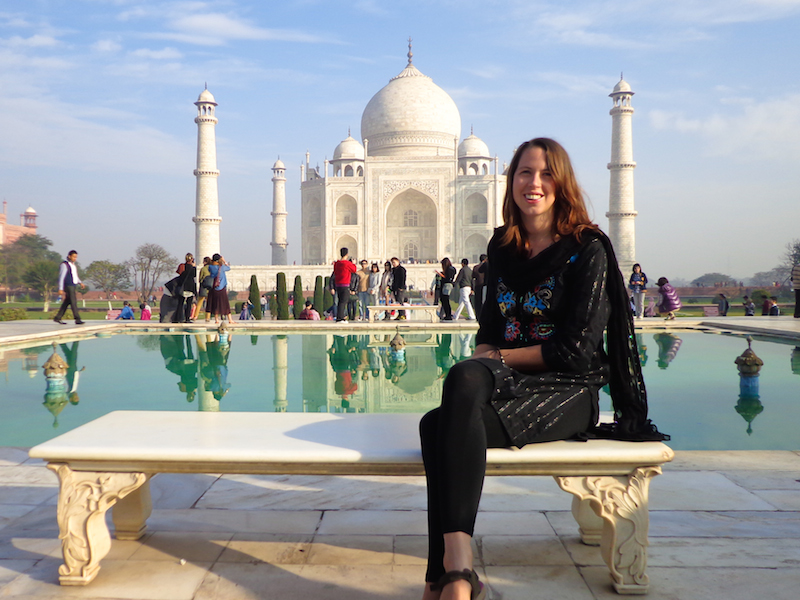 Andy: What, according to you, is the best way to see the real India?
Anna: Go slow! India is not a place to be rushed around and coming for one week is not nearly enough time. Come for as long as you can with an open mind and open heart, try to get involved and meet local people, learn about the culture, religion and history and you will have a more meaningful experience.
Go slow! India is not a place to be rushed around
As for the real India, one of the best things about India is that it is so diverse and I'm still not sure what the real India is! There are so many facets — rich and poor, modern and old, from the Himalayas to the Andaman islands, from buzzing metropolises to a mud hut in West Bengal and with all the different languages, cuisines and traditions that change from region to region.
I guess the only way to see the 'real India' is to embrace as much diversity of the this incredible country as you can and it would take a lifetime to see it all!
Andy: Would you recommend India to someone who is not really an epitome of patience?
Anna: Yes! Ha ha, they would get crazy and frustrated at first but then they would learn to become more relaxed and patient. India is a great teacher and a transformative travel destination. Traveling in India has taught me a lot!
Andy: Have you made friends in India? 
Anna: Yes, I'm still in touch with friends that I made while volunteering in Bangalore, one of my best friends lives in Mumbai with her Indian husband and I'm still in touch with the lovely Dutch girl that lived next door to me in Goa. We are already planning reunions both in India and elsewhere.
One of the hardest things about a life of travel is saying goodbye both to family and friends back home but also saying goodbye to places you've fallen in love with and new friends that you form a strong connection with really quickly but the good thing is that I have friends all around the world now and traveling solo hardly ever actually means alone, there are many others doing it and its easy to make friends.
Andy: Of all the places in India that you've been to, which is your favourite and why?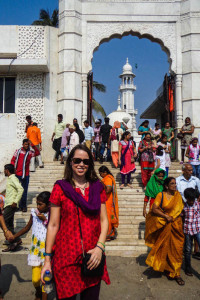 Anna: It's difficult to choose because everywhere is so different. I love Mumbai, I really like the ambitious energy and colonial grandeur of this buzzing city. I love Goa, there's something really special about Goa for me and I feel a deep connection here and Hampi is up with my favourite places too for the spiritual, chilled vibe, surreal and stunning landscape and interesting history.
Kerala is also beautiful and I also loved Khajuraho and romantic Udapiur but there is still so much more I want to see especially more of the North West, Rajasthan, Punjab and Himachal Pradesh. These areas will probably be first on the list for my next trip.
Andy: How easy or difficult is it for someone from the UK to get a tourist visa to India?
Anna: It's not too hard, it requires a little organisation but as long as you follow the guidance carefully and answer all the questions its straight forward enough. It's a bit pricey (about GBP100) but they issue multiple-entry six-month tourist visas so that gives you a decent amount of time to explore India.
One month visa on arrivals have started to be introduced this year for many nationalities, including most Europeans, Australians, Canadians but not so far for the British.
It's a shame because I can see how going through the expensive and time-consuming visa process puts off tourists from going to India and is a reason why they may choose to go somewhere like Thailand because it is easier.
Andy: How would you describe your time in India as a female traveller?
Anna: Challenging. Rewarding. Life-changing!
Anna Phipps, from the UK, has a serious case of travel addiction. She quit her job in December 2012 and has been travelling ever since and set up her blog Global Gallivanting to show others how affordable it is to do the same. Anna has inter railed around Europe, worked in an outback pub in Australia and fallen in love with Asia and in particular, India, a country that she is passionate about exploring and encouraging others to visit what she feels is the ultimate travel destination.
You can follow her adventures and get tips on how to work abroad and make travel your lifestyle choice at
Global Gallivanting or connect with Anna on Facebook, Twitter and Instagram
How love works on the road
|
How to be prepared for on-road emergencies