Five things a budget traveller should be
Budget travellers not only balance the books, but also their outlook. The savings account needs to shape up, but so does one's attitude. If you've always admired those who can pull it off, but were not sure how, here's a ready reckoner. The entry into this merrily growing club isn't exclusive, the keys lie within each of us.
Here are five essential personality traits of a budget traveller.
Flexible: While on the road, don't expect creature comforts. We all have our favourite pillows or soul food, trying to lug them along or cribbing their absence, is setting oneself up for bitter disappointment. Not to mention the pain we'll become for our co-travellers/hosts.
Being flexible about what and when we eat, where we sleep (so long as it is safe), mode of transport (deciding how cheap we 'want' to travel versus how fast we 'need' to reach) will help us get things done more economically and realistically. Being fussy just won't help!
I've shared mixed-sex rooms, eaten anda bhurji (scrambled eggs) served on newspaper, had my day's first meal at 2pm — you don't want to know what the kitchen and cooking pan looked like — to give examples of possibilities one might face.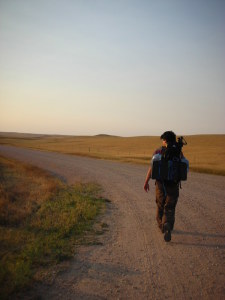 Adaptable: The bus you were to take has already left. The train timetable has changed or the price of a ticket risen since you left home. How you tackle routine obstacles on the journey indicates what stuff you're made of.
So your roommate turns out to be a loud snorer. So the toilet pan isn't the kind you're used to. What if there is no toilet pan? You can either pre-empt and pack your needs (this has its limits, remember airlines charge for extra baggage and you'll have to carry that load yourself) or make up as you go. If you are a quick thinker, pro-solution kind of person and ease into accepting alternatives, thumbs up to you!
The more you fret and panic, the more distracted you are from enjoying your journey. Move on.
Resilient: Be a tough nut. Tell yourself, there's nothing that can go wrong, 'I' won't let it. Do your homework, have the contact details of your nearest high commission handy (when travelling abroad.) Keep multiple copies of your essential documents in separate places in your luggage, and preferably scanned copies on e-mail or Google docs. Small amounts of money in different bags, in your hand luggage and waist pouch, will be a good safeguard against one being lost or stolen.
Don't be shy asking for directions to the nearest police station or hospital, in worst-case scenario. Walk into shops or restaurants to seek help rather than stopping strangers on the streets. Chances are, the establishment will have a working phone and might call you help. Also they'll know the area better than passers-by.
Your preparedness before the trip and poise on the road will save you hassles. Recovering quickly from unforeseen trouble will help prevent more.
Self-sufficient: Can you boil an egg, butter bread, make your own tea and soup? Staying in hostels, self-catering accommodation and camping are always cheaper options if you can cook your own basic subsistence.
Safety pins have multiple uses. Have you tried sleeping with your head on your backpack…or your shoes? Or sitting up in a cramped space? (I've snoozed on a box once, but that's another story.)
Knowing basic cooking, being a DIY enthusiast or plain upbeat about anything is good preparedness.
Friendly: Last, but not the least, a smile goes many miles. Don't be so cheerful as to appear gullible so crooks can take a swing! But overcautious and grumpy is a spoiler, too. Make friends, talk to people on the next berth, catching a breath on the trail, stopping for meals. You never know what advice and kindly gestures will come your way.
Carry nibbles to pass around. Learn a few greetings, 'thank you' and 'sorry' in the language of the place you're visiting. Show your clicks around to those curiously looking over your shoulder. Ask polite questions about locals, show interest in their lives. Always be appreciative of what others do for you.
"Namaste! Have a good trek." My friend Nawaz was wishing EVERY trekker or porter we passed during my trip to Khumbu in Nepal. We stopped to share trail mixes, play with local pups, let our guide take photos with my camera, bedded down in unplanned teahouses, made small talk with travellers from so many countries. Those memories are as precious as seeing Mt Everest up close!
Jayeeta Ghorai writes, travels, reads, studies and photographs — all this when she can spare time from her pillow and houseful of cuddlesome strays. She swears by her light backpack and an ever-lighter purse. Her favourite dream – a world without borders (and visa fees). Catch up with her on An Idiot's Tale.
How I dug out cheap air tickets
|
The importance of a local contact