Etihad Airways to fly Boeing 787 Dreamliner to Hong Kong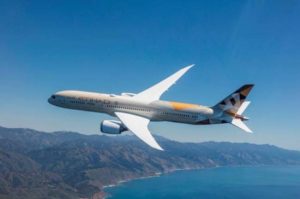 Abu Dhabi (TAN): Etihad Airways has announced it will operate the Boeing 787-9 Dreamliner to Hong Kong on its daily services, from March 31 this year.
Airbus A320-200, that presently flies between Abu Dhabi and Hong Kong daily, will be replaced by the Boeing aircraft.
According to the schedule, flights from Abu Dhabi will take off at 22.05 hours daily, and reach Hong Kong at 10.05 hours, local time, while the ones in the opposite direction will leave Hong Kong at 19.05 hours daily, and land in Abu Dhabi at 23.25 hours, local time.
The new service will offer Etihad Airways' next-generation Business and Economy cabins with 299 seats. The Business and Economy classes will see an increase of six and 31 seats in each direction, adding up to the current 28 Business Studios, and 271 Economy Smart Seats, respectively. Also, belly-hold cargo capacity will grow to four tonnes.
Etihad Airways will operate the Boeing 787-9 Dreamliner on its scheduled services between Abu Dhabi and Barcelona, in place of the currently operating Airbus A330-200, from February 22 this year.
IndiGo connects Kannur to three Indian cities
|
Eat, drink & enjoy great views on Amtrak Winter Park Express