7 reasons to visit Palolem beach in Goa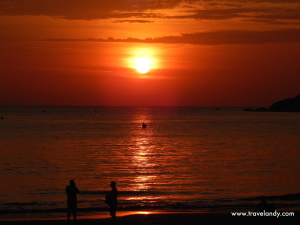 Have you been to Goa? Have you seen the Palolem beach? If your answer to the first question is an yes, but the second is a no, then you missed something nice.
Here are 7 reasons to visit Palolem beach in Goa.
1. Less tourists: Palolem is the southernmost beach of Goa and it takes around two hours by bus to reach there from the Margao bus terminus. For its relatively far location, less tourists visit here and this is exactly why you should go.
2. Safe: Like many other beaches in Goa, lifeguards patrol regularly to ensure the safety of the swimmers and check rowdy elements from bugging others.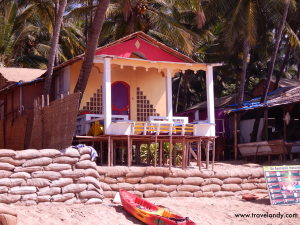 3. It's B-E-A-U-tiful: Sitting in an U-shaped cove, the beach is lined with cute huts, cafe/bars and palm trees. If you are lucky, you could find a hut like ours 🙂
4. Lots of stuff to do: Go dolphin-watching and later, head to Butterfly beach, so named because of the two hills rising from behind the beach like the wings of a butterfly. And then there's Honeymoon beach, another secluded little stretch of rocks and sand. If you're into kayaking, you can rent kayaks from Palolem beach for a couple of hundred rupees or less for an hour.
5. Awesome food: The seafood available here is top-notch. The emphasis is on simple and tasty stuff. Prawns, calamari, squid and tens of other yum stuff.
6. Prefect place to relax and unwind: We used to sit on the recliners in front of our hut gazing at the sea and the guys from the bar next door would serve us whatever we wanted. There's nothing more relaxing than sipping delicious cocktails and munching on batter-fried prawns while gazing at the setting sun.
7. Cheap alcohol: Alcohol is cheap everywhere in Goa, but for some strange reason, I found booze costing a little less in Palolem than more urban places such as Calangute.
PALOLEM: A BUDGET TOURIST'S GUIDE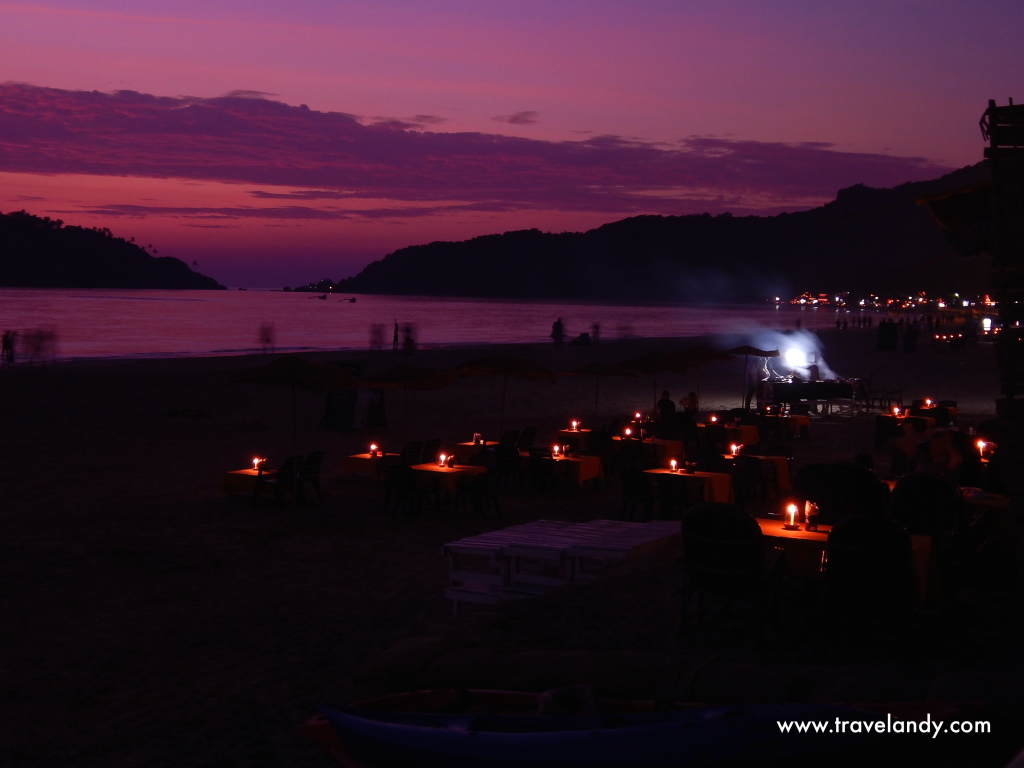 How to reach: Wherever you are in Goa, you will find a bus (or a connection) that goes to Margao bus terminus. From there, you will find buses going to Palolem beach. Tickets cost around INR35 from Margao to Palolem.
Where to stay: There are lots of huts along the beach and when you see one that looks good, just ask if that is available. If you go when it's not peak season, it shouldn't be hard finding a place to stay.
Where to eat: Cafe Del Mar is the only place that remains open all night. The food is good, but I didn't have a good experience there with the room. It was downright shabby and the wooden floor broke under my friend's weight near the door. I checked some other random cafes. None were bad.
Top things to do
Go dolphin watching: Not far off the beach, dolphins are a common sight and boats make regular dolphin-watching trips with tourists.
Check out the (not so) secret beaches: There are two isolated beaches close to Palolem – Butterfly beach and Honeymoon beach – accessible only by boat. If you go in the off season, you may find yourselves the only people there.
Go kayaking: The water isn't too choppy in the area and kayaking can be fun, even for those doing it for the first time. If you're really into it, it is possible to kayak all the way to Butterfly beach.
Eat awesome seafood: This goes without saying when you're visiting Goa.
Relax: Laze. Eat. Sip beer. Repeat.
Typical costs and money-saving tips
Sleeping: For INR2,000 a day, you should be able to get a non-air-conditioned hut. Such huts can be shared by three people, so if there are two or three of your travelling together, this turns out quite reasonable. Remember that rooms rents are always negotiable, especially if you are visiting when it's not the high season.
Food: A full meal at one of the beach cafes could cost upwards of INR500 per person. But if you are in a group, you can share dishes and the costs come down. Too much awesome seafood can burn a hole in your pocket. But when in Goa for a few days, I'd rather save money on other stuff and spend on the seafood.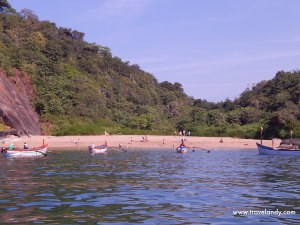 Activities: Boats ferry tourists to the dolphin sites and then stop at either Butterfly or Honeymoon beach. But you can rent a boat and customise your trip. Expect to pay 300-400 per person for this trip. If you are a big group, you can always negotiate and bring down the per-head cost. Kayaking costs between INR100 and INR200 depending on the time of the day and the rush.
Ten postcards from Bangkok
|
Japan tourist visa guide for Indians