Vancouver Christmas market begins November 21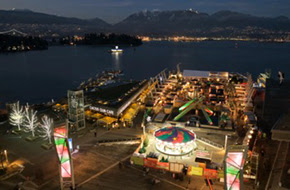 November 5 (TravelAndy): The Vancouver Christmas Market returns to Jack Poole Plaza, November 21– December 24, 2018, with extended hours from 11:30am to 9:30pm.
The city's signature yuletide celebration amplifies and expands its festive offerings with more than 80 huts stuffed with sweets, treats, and treasures.
Wander the market's winding alleys and discover authentic German delicacies: sizzling sausages, two warming Glühwein (mulled wine) locations, old world confections, handcrafted gifts, and so much more! You can share food and drink in the Alpine Lounge, or chill out in the Winterdeck, featuring stunning views of the North Shore.
Also, you could venture down Lovers' Lane – an Instagram-worthy 30-foot long tunnel adorned with 10,000 twinkling lights and mistletoe, or enjoy live seasonal entertainment performed on the Christmas Pyramid's Flying Stage. There would also be a floating Santa underneath the Olympic Cauldron, a shimmering 30-foot tall Walk-in Christmas tree, a glittering carousel, and a multitude of festive family activities.
Tickets: Adult $12, Seniors $11, Youth $5, Children Age 0-6, FREE
Indulge in slow travel through Vellur in Kerala
|
The season of Scotland's fire festivals is here