Indulge in slow travel through Vellur in Kerala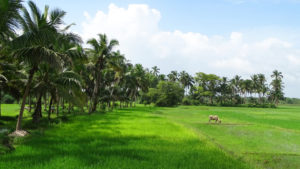 November 4 (TravelAndy): Kerala Tourism is promoting Vellur, a sleepy hamlet tucked deep away in the peaceful countryside of Kannur.
Visitors can experience panoramic vistas of green carpeted paddy fields and the centuries-old art and craft.
"A stroll through the flourishing fields lending your ears to the murmuring rice plants and bathing in the frigid waters of silver streams on a misty morning caters to the tastes of any ardent nature lover," says the Kerala Tourism website. "Besides its natural charm, the village is renowned for its rich heritage and culture and Shaaliya Porattu, the folk art form, showcases this at its best." 
The weaving centres of Vellur are guardians of an old tradition. Kannur hold a special palce in the cultural history of Kerala with its unique art and craftsmanship. The weaving centres, the Bell Metal making village, artforms like Theyyam, Poorkkali and Porattu add variety to this cultural scenario.
Theyyam, the ritual artform of Kerala is also an essential element of Vellur. A series of temples here let you experience the vibrance of this unique art up close.
UNWTO calls for tech and investment in tourism
|
Vancouver Christmas market begins November 21