There's no place better than NYC during the holidays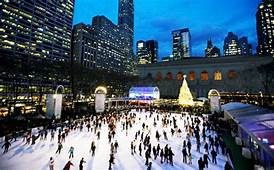 December 10 (TravelAndy): The most wonderful time of the year is also among one of the best to visit New York City, when it offers an extensive fare of holiday events to choose from – spectaculars, ballets, holiday markets, comedy, and music.
Everyone's holiday favourite 'The Nutcracker' alone is all set to be presented in a variety of forms. One can catch 'George Balanchine's The Nutcracker', running since 1954, at New York City Ballet through December 30, or New York Theater Ballet's one-hour version at Florence Gould Hall between December 14 and 16. While Mark Morris's Pop Arty 'The Hard Nut' will show from December 14 to 23, Ditto Company XIV's burlesque 'Nutcracker Rouge' will run through Jan 13, 2019. 'The Bang Group: Nut/Cracked' from December 20 to 22, 'Los Nutcrackers: A Christmas Carajo' through December 15, and 'Micro-Nutcracker' on December 16 are some of the deconstructed takes on the classic.
Spectaculars are a tradition the city adores, and the Rockettes return to the Radio City Music Hall with their annual 'Christmas Spectacular', to run through January 1, 2019. 'A Harlemettes Holiday', a pageant produced by the Harlem School of Arts will run from December 14 to 16.
New York's holiday markets are loved by all age groups as they celebrate the season's spirit with food, drinks, and handmade souvenirs. The Winter Village at Bryant Park, surrounding the skating rink installed during winters, is a popular choice for its central location, over 170 shopping vendors, as well as the new rinkside pop-up eatery. The market will be open through January 2, 2019. The Grand Central Holiday Fair, on through December 24, is an indoor bazaar with pretty lights, a Christmas tree, and goodies for both adults and children. Some of the other popular markets include The Rooftop at Pier 17, Columbus Circle Holiday Market, East Village Stand Holiday Market, Crafts at St. John's the Divine Cathedral, Winterfest at the Brooklyn Museum, and Union Square Holiday Market.
The 'Dyker Heights Holiday Lights', started in the 1980s, is a must-see New York tradition during the holidays. The neighbourhood houses are decked up with motorised displays, massive lawn ornaments, and bright lights, and the best time to catch them is in December.
Brooklyn Queer Comedy Festival on December 21, 'Not Quite Midnight' on December 16, 'Yourself, Your Body' by Arti Gollapudi on December 22, 'Steven Markow: Words in Concert' on December 17 are some of the comedy events to opt from, while 'Ween' at the Capitol Theatre on December 15 and 16, 'Manchester Orchestra's gigs on December 14 and 15, (Sandy) Alex G's performance on December 14 are some of the musical extravaganzas to keep an eye out for.
Vancouver: A winter wonderland this holiday season
|
Kerala is decked up for December