Luxury hotel to open in space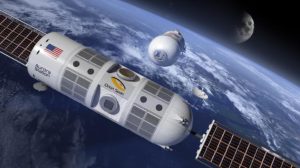 April 9 (TravelAndy): The world's first luxury space hotel will launch late in 2021 and start welcoming guests the following year.
For a cool USD9.5 million, you can book your space adventure on the Aurora Station from where you can see 16 sunrises (and sunsets) in a single day for the hotel will orbit the earth every 90 minutes.
Reports said the hotel will be able to accommodate six people at a time, including two crew members. The USD9.5 million is the all-inclusive price for a 12-day trip, said reports. 
Developed by American space technology start-up Orion Span, Aurora Station bookings are now open. Interested parties need to pay USD80,000 per person as wait-list deposit. The company will get in touch with the guests closer to the launch date with further details.
Airbnb China to disclose host & guest info to govt
|
Four women bike 17000km through SE Asia