Khecheopalri: Great place to do nothing

Khecheopalri village is 34km from the touristy town of Pelling in India's Sikkim state, which nestles in the Himalayas.
I was quite terrified as our car snaked through some treacherous roads along deep gorges to reach the sacred Khecheopalri lake, from where we had to walk 1.2km up to reach the village.
The walk up was tough, more so because there was no real road, just a beaten track strewn with rocks through the dense jungle. We trudged along and after nearly an hour, we were there.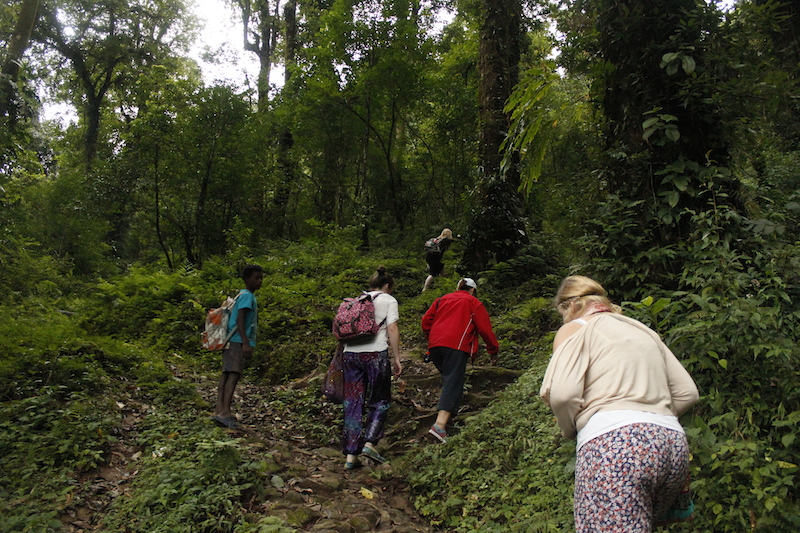 It was worth it. The village was nothing more than a dozen scattered wooden houses, all of which had gardens. Almost every house had some livestock, largely comprising cows, horses, pigs and hens.
Our homestay, Lake View Nest, was a little different. It was a two-storey structure, the ground floor made of bricks, and the first floor of wood. The ground floor had a fairly large kitchen and a big bedroom where the owner, Deepesh, and his wife stayed.
The top floor is meant for visitors. You have climb a flight of wooden stairs that leads to the living room. The first room you step inside is the living-cum-dining room. It has a bed with cushions and a large dining table with wooden benches to sit on. The window above the sofa opens to a spectacular view of the green around the cottage and the hilltops. This room ends in a long balcony that has the entrances to four bedrooms. Each of the rooms had a queen-sized bed, cupboards, carpeted floor, lampshade on the bedside table and of course, windows overlooking the mountains and the forest.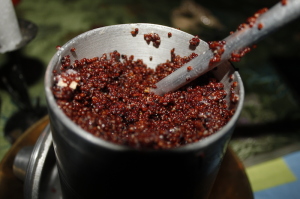 It was evening and our host welcomed us with steaming cups of aromatic tea. Deepesh said this was a special variety native to Sikkim. After tea and a snack of noodles, we tried out chhaang, a local brew. It comes in tall covered jars with a straw. I opened the lid to find the jar filled with a concoction of warm water and red millet grains stuffed to the brim. The millets, I found out , had been fermented for about a month. Once the millets were ready, you simply had to soak them for some time in warm water and your chhaang was ready! As I my finished jar, Deepesh simply refilled my jar with more warm water and it was good to drink. However, I didn't get much of a high.
Later in the evening, our host prepared a bonfire for us in the front yard. The sun had set, it was pitch dark all around us because there was a power cut and the temperature was going down. We all lapped up the warmth of the crackling fire as we chatted.
A little while later when the intensity of the bright fire had decreased, I looked up to see thousands of stars sparkling in the night sky. I never got to see so many stars in Kolkata, the city where I live. It looked magical. While the others chatted and laughed, I quietly soaked in the beautiful night in this isolated hamlet in the Himalayas.
Dinner was a simple affair of vegetables from Deepesh's kitchen garden, pulses and cheese. After that, I fell asleep in no time and slept like a baby.
The next morning, I woke up to the cock's crowing but fell asleep again when I saw everyone else fast asleep. I finally got out of bed around 8am (my friends were still asleep), brushed and climbed down for a walk around the village.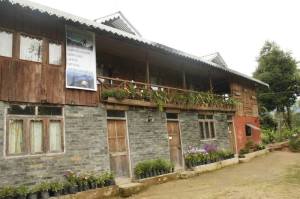 The walk turned out more of a climb up and down though! Apart from the beautiful scenery, being an animal lover, I noticed all the animals around. There were baby pigs scampering away from me, cows peacefully munching away on grass, a poor little sick black kitten, some horses and plenty of hens and chicks running everywhere around. And there was also this plump white cat that crossed my path and it reminded me of my own cat back home. Further ahead, I saw a woman milking her cow. I am not a milk-lover, but the sight of the rich creamy milk did make me want to try it out!
We returned to Pelling after a sumptuous breakfast of chapatis, ghee and egg curry. I especially loved the ghee and asked Deepesh's wife if I could take a bottle home. She happily agreed and refused to take money for it.
Khecheopalri is a wonderful place to get away from it all, just chill out and do nothing.
How to go
The nearest railway stations are Siliguri and New Jalpaiguri. From either of these places, it is possible to hire a car to Pelling. Buses are also available from Siliguri. Once you reach Pelling, you need to hire a car to go to Khecheopalri. If you are staying at Lake View Nest, they will arrange for a pick up.  Just in case you want to visit, here's the owner's contact — Deepesh Pradhan, lakeviewnest@gmail.com, 9735945598/9593976635.
The author of the post is Ananya Misra, an animal-lover and foodie. Pictures by author.
Seven exciting Indian travel websites
|
Ten reasons to visit Saturna Island