Continued whaling may repel tourists, fears Iceland tourism industry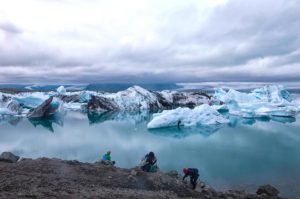 Reykjavik (TAN): The tourism industry is not happy with the Iceland government's recent announcement that it would continue whaling for another five years, Quartz reported.
Iceland has witnessed a tourism boom over the past several years, especially with the hit TV series Game of Thrones showing its breathtaking landscapes. In 2016, tourism revenue for the first time outstripped that of fishing.
With the tourism growth already showing signs of stabilising, the industry doesn't want anything else to slow growth. The Icelandic Travel Industry Association argues while Iceland's "market for whale meat is Japan, Norway and the Republic of Palau", the country's tourism market "is the entire globe".
"We've been pointing out that the tourist doesn't just appear on the deck of the whale watching boat," Icelandic Travel Industry Association managing director Skulason told Quartz. "The tourist goes through a long period of planning his vacation, where he wants to go and do, and there are a lot of things that affect that decision — news of Icelandic whaling can be one of these influencing factors."
The Iceland government, however, says it treats whales as just another seafood and confirms it exports whale products to Japan and Norway. On its website, it emphasises the country only carries out sustainable whaling of two species of whales.
"According to the most recent scientific assessments, the stocks of both fin and common minke whales around Iceland are considered to be close to pre-exploitation levels with internationally agreed abundance estimates of more than 50.000 fin whales and 150.000 minke whales in the North Atlantic," the government says.
"The recommended annual total allowable catch for fin whales is 161 animals for the traditional whaling grounds west of Iceland and 217 common minke whales in the coastal waters around Iceland for the 2018-2025 seasons. The catch permits now issued for 2019-2023 are precautionary and will not have a significant impact on the whale stocks in question," it adds.
Accessible tourism gains popularity in ageing Japan
|
Vietnam tourist visa process: It's simple and fully online